Photo by Rebecca Nankivell
Silver lining for Megan at Euro Cross to lead GB to team golds
By Peter Jardine and Charles Bannerman
There was a certain symmetry in the North Cross Country League taking place on Saturday on the shores of Loch Ness at Dores.
Inverness Harriers were the host club for the latest meeting for a league which is this year celebrating its 50th year and does so much to meet the cross country craving of athletes – young and old alike – across  Highlands and the north of Scotland.
Less then 24 hours later, arguably the North League's best-known 'graduate' was in Euro Cross action on the outskirts of Turin in northern Italy, as Megan Keith once again represented GB and NI across the hills and mud.
The 2021 European champion at U20 made the step-up to the Women's U23 category and did so with consummate ease, surging around the Turin course alongside home favourite Nadia Battocletti before taking a superb individual silver medal.
Imperious Italian Battocletti, who finished sixth in the Olympics in 2021 and who now has four successive Euro Cross titles to her name (after two at U20), duly landed the gold by 13 seconds.
But Megan's strong run guided GB and NI to the team gold ahead of the host nation with her British team-mate, Alex Millard, taking a fine bronze medal.
'I really like Megan's running style,' purred Steve Cram during the BBC commentary.
'She is so strong and competitive and she isn't frightened by reputations. Megan knows exactly how she wants to run and you love to see that.'
'Megan's development has been exciting but above all she runs for fun' – coach Ross Cairns (after Euro Cross gold in December 2021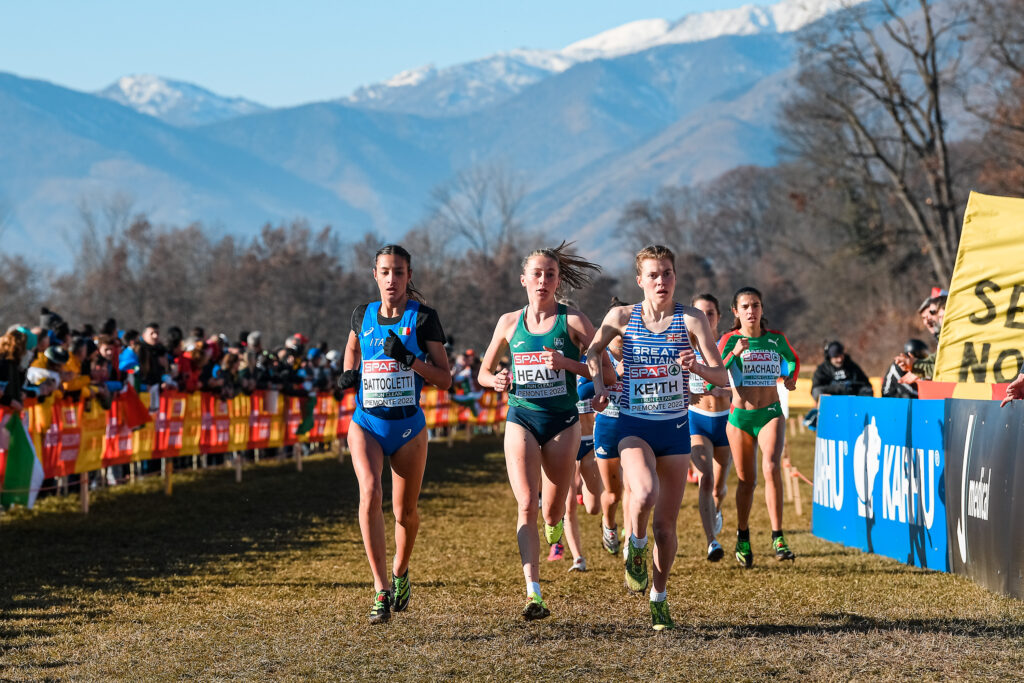 Megan keeps pace with Italy's Nadia Battocletti and Ireland's Sarah Healy in Turin (photo by Francesca Grana)
Paula Radcliffe was just as complimentary while Hannah England, working for European Athletics, spoke to the Scot for a pre-race podcast which highlighted 'enjoyment' as a key driver for the 20-year-old's cross country exploits.
To Scottish observers, Italy was simply confirmation of an aggressive style and happy approach in the colours first of Inverness Harriers and then Edinburgh Uni Hare and Hounds at venues such as Falkirk, Perth, Cumbernauld and Kirkcaldy.
The initial staging posts, years earlier, were in North League XC matches at locations…
CLICK HERE to Read the Full Original Article at Scottish Athletics…