Photos via University of Stirling
Our National Lead for Hill and Mountain Running, Angela Mudge, has received an honorary degree from the University of Stirling for her outstanding contribution to sports.
Angela – a Scottish, British and World Champion in hill and mountain racing – was recognised on 25 November, the last day of the University of Stirling's winter graduation ceremonies.
She said: 'I am delighted to receive an honorary degree from the University of Stirling.
'It is both an honour and very apt that the university where I was introduced to the sport has recognised my sporting achievements.
'Dumyat, the hill behind the campus, is where my lifelong passion for hill and mountain running began and I'm still running up Dumyat 31 years later!'
Also recognised on the day was leading sports scientist Dr Malcolm Fairweather, who was the first employed sports scientist at the organisation now known as sportscotland. Malcolm was honoured for his leading role in the advancement of sports science research.
'I am delighted and extremely proud to receive this honorary award,' said Malcolm.
'My sportscotland Institute of Sport job supports high performance athletes, coaches and sports, and is truly a privilege. As such, I feel very honoured to be recognised in this way.
'The partnership sportscotland has with the University allows us to harness the very best of science and evidence based practice, and focus the skill and acumen of academics within prioritised special projects. This includes a shared intention to understand and enable athlete performance on the world stage.'
Professor Sir Gerry McCormac, Principal and Vice-Chancellor of the University of Stirling, said: 'Alongside the achievements of our graduands, we are proud to recognise Dr Angela Mudge, a former Stirling student who has enjoyed phenomenal success in mountain racing, and Dr Malcolm Fairweather, for his pivotal role in improving the performance of Scotland's athletes.
'They are fantastic role models for our students and are recognised for their outstanding contributions in their respective fields.'
Below: Dr Malcolm Fairweather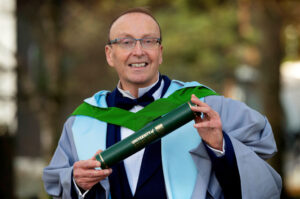 Tags:
Angela Mudge, hill running
CLICK HERE to Read the Full Original Article at Scottish Athletics…