Chris Richardson, Robert Turner and Jason Kelly in action at the ACP in 2022 (photo by Steve Adam)
Course Records fall as Jo lands British 100k title
scottishathletics are asking for expressions of interest for the Anglo Celtic Plate 100km race – taking place in Northern Ireland next Spring.
The 2023 event has been scheduled for Sunday 2 April around the Balancing Lakes at Craigavon, with the venue approximately a 25-minute drive from Belfast.
Scotland hosted the 2022 edition of the ACP when it was held in Perth last March.
The Craigavon event will be contested over a course with loops of 2.96 Miles/4.76km. There will also be an open 100k event, for anyone wishing to tackle what is still regarded as the classic ultra distance as well as an accompanying 50km event
Scotland hope to send to send men's and women's teams to Northern Ireland, with up to five selections in each category.
We are looking for expressions of interest by noon on Wednesday 21 December, please.
Event: Anglo Celtic Plate 100K Road Race
Location: Craigavon, Northern Ireland
Date: Sunday 2 April 2023
Selection Date: Friday 6 January 2022
Teams: Up to five men and five women (subject to minimum qualification)
Qualification: To gain selection athletes must have achieved the following standards, or be deemed capable of achieving those marks from indicative performances at other distances.
Men: 7 hours 30 minutes
Women: 8 hours 55 minutes
Athletes who wish to be considered for selection should please send expressions of interest including athletics achievements in the past two years to performanceteam@scottishathletics.org.uk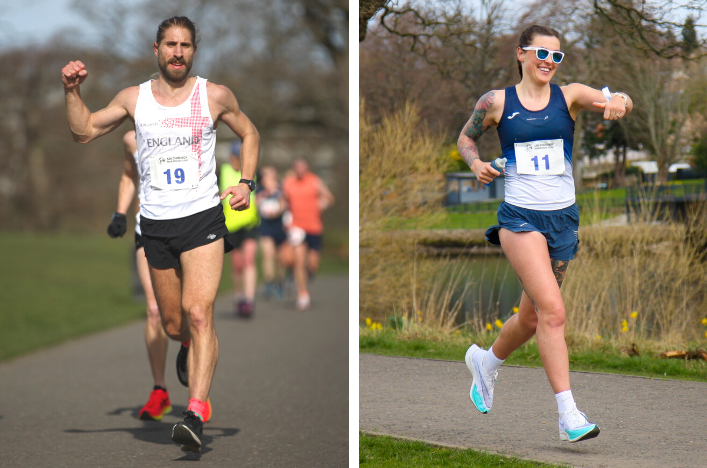 Matt Dickinson and Jo Murphy on their way to 100k Course Records in Perth in April 2022 (photos by Steve Adam)
+++
Tags:
Anglo-Celtic Plate, Anglo-Celtic Plate 100k, Ultra running
CLICK HERE to Read the Full Original Article at Scottish Athletics…