This is part two of Stuart Weir's end-of-the-year feature on Jake Wightman. Jake had a fantastic summer, taking the gold medal at the 1,500 meters in the World Championships, the bronze medalist at the 1,500 meters in the Commonwealth Games, and the silver medalist at the 800 meters in the European Athletics Outdoor Championships. 
Stuart wrote this piece at the very end of the season. 
"Jake Wightman is world champion, and he's our son, and we coach him."
Oregon could not have gone better for Jake Wightman.  He was fourth and third in the prelim and semi, just doing enough.  In the final, he was in a good position, and then with 200m to go, he made his move, passed Jakob Ingebrigtsen, went for the line, and managed to hold off the Norwegian favorite to win in 3:29.23. As he told me: "Throughout my whole time in Oregon, I was pretty calm."
He said of his decision to go at 200m: "I didn't really have anything to lose.  I felt that no one had ever tried to challenge Jakob that way, so I thought that if I was at the bell, I would.  And my way was to go past him at 200m and hopefully to hold on with my strength.  But that is easy to say, and then hope you can do it, but actually pulling it off is something different.  I had done it a few times during the season, so I knew that I would be strong enough if I got in that position.  But being strong against everyone else is different from being strong against Jakob because he has shown that he's the strongest to race against.  I put him in an unfamiliar situation, and he will probably never let me do that again, so I need to think of other ways to beat him".
I spoke to Geoff Wightman, coach to Jake, immediately after the race about the tactics, and he told me, "You have to cover the break.  It is no use trying to kick against Jakob or Timothy Cheruiyot from three meters back.  You have to be in a position where you can tap them on the shoulder.   There was a point with 200 to go where I thought he was not getting past Ingebrigtsen, but he did.  Jake is hard to beat over the last 150. You take chances, and sometimes they come off".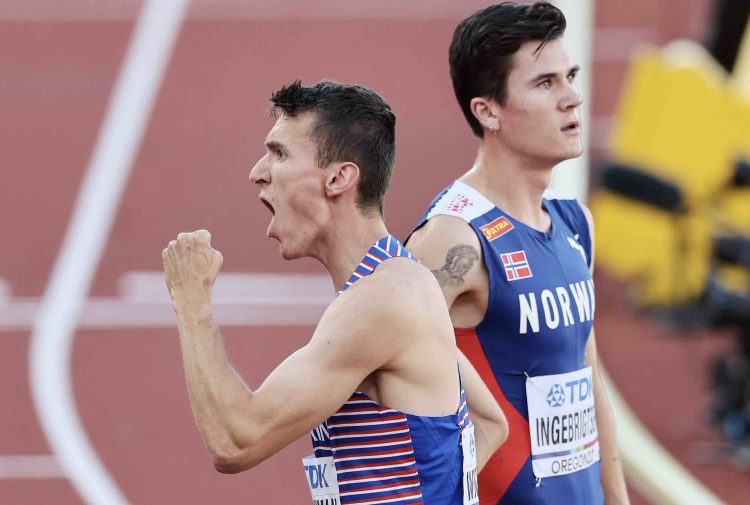 Jake described the race from his perspective: "I always think that if I can hit the home straight in the lead, and I've not completely burned myself to get there, my biggest strength is my…
CLICK HERE to Read the Full Original Article at runblogrun…