By Peter Jardine, Head of Communications
In the midst of the Festive break, you may have missed the picture displayed above across our channels just as 2022 drew to a close.
It's from the first-ever joint cross country session organised by the North CC and RR Commission to take place in the Western Isles – with athletes and coaches pictured at Northton Beach on the island of Harris.
Remarkably, 25 folk (and one dog) made the trip on Thursday 29 December to train together at the remote but splendid Northton location, just as other sessions were taking place in far-off Forres and Inverurie.
Members of Stornoway RAC and North Uist AC combined with the clear goal of raising overall standards and there were even a couple who travelled to Harris from Benbecula.
We understand athletes trained on the machair and sand dunes alongside Highland cattle and at one stage had to dodge a burnt-out car being used as a skip. Afterwards, the Temple Café at Northton opened specially to serve those at the session.
Organiser Willie MacRury said: 'Don't be fooled by the smiles in the picture, they soon disappeared as that dark cloud in the background came in just as we started the first rep and we had driving sleet for the duration of the session.
'That's the way we sometimes have to do it in the Western Isles in winter! Seriously, it was great to get the first session staged and we are very hopeful it will grow from here with more athletes from both clubs now keen to be involved.'
We feature the Harris session simply to demonstrate it as a wonderful example of what we like to call the #SALtogether approach. That's where and when different athletics groups (or clubs, coaches) seek to work together for the greater benefit of the sport.
In challenging times – and news about Grangemouth stadium just prior to Christmas is alarming and may well be replicated at other facilities as councils struggle with budgets – a willingness to pull together may well be even more important for our sport in 2023.
+++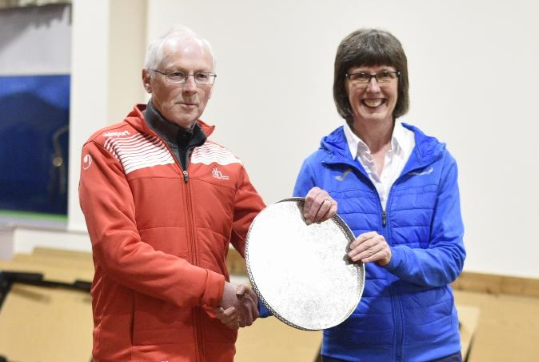 David Cooney of Cambuslang (pictured receiving cross country trophy from Leslie Roy)
Less than 48 hours after that North session, West club Cambuslang Harriers were celebrating Honours List recognition for one of their own as past president David Cooney landed the British Empire Medal.
David will receive the accolade for 'services to athletics' after volunteer work with the club which spans five…
CLICK HERE to Read the Full Original Article at Scottish Athletics…