XC race action from Scone Palace in 2021 (photo by Bobby Gavin)
Start-lists (become Live Results on Saturday)
British Cross Challenge points and Scottish Inter-District XC medals – for individuals and for teams – are on the line in Perth this weekend.
The picturesque (and muddy) grounds of Scone Palace proved an excellent alternative cross country venue during Covid restrictions in the winter of 2020 and we returned last year for the Lindsays National Relays.
Now a third visit to Scone will feature eight races as the British Cross Challenge heads to Scotland with our own Inter-District medals decided within the races.
It should make for an excellent day of cross country and perhaps provide a marker ahead of the Lindsays National XC coming up at Falkirk in February.
There are U20 races with Worlds Athletics age groups applicable and British Athletics plan to use performances in those as a key marker ahead of their World Cross team selection.
In total, with Scottish Students teams for the Seniors races as well as the East, North and West, there are almost 700 athletes entered with the races having been 'open' for wider entries beyond those selected for their District.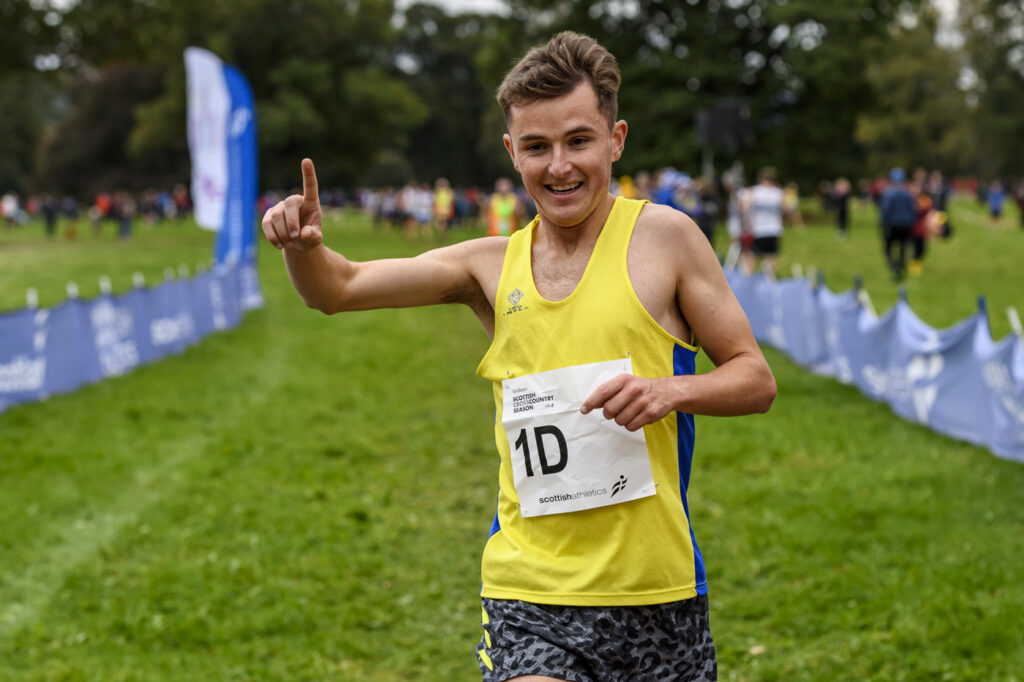 Jamie Crowe led Central AC home to victory in the Lindsays National XC Relays in October 2021 and returns to Perth this weekend (photo by Bobby Gavin)
In the Senior races, the Scottish Inter-District titles will be contested while the likes of Megan Keith, silver medallist at the Euro Cross, may have an eye on that World Cross team selection, too.
Megan and other XC exponents like fellow GB international, Alice Goodall, and our current Grand Prix leader Constance Nankivell look set for a battle across the mud of Perth with international hill runners.
Among the names on the start-list are hill trio Scout Adkin, Holly Page and Catriona Graves. Megan will race for Scottish Students this weekend.
The Men's race should feature Jamie Crowe returning to the national stage again after the Central AC athlete won on his comeback at the East League XC at Bathgate last weekend.
Jamie had been out of race action for 10 months following a stress fracture which left him ruled out of running completely for four months.
Among the other names listed are Christian Graham, Matt Knowles, Jamie Burns, James Donald, Lachlan Oates, Kristian Jones, Kenny Wilson and Hamish Hickey.
Again, there is a hill running…
CLICK HERE to Read the Full Original Article at Scottish Athletics…