Saturday, 14 January 2023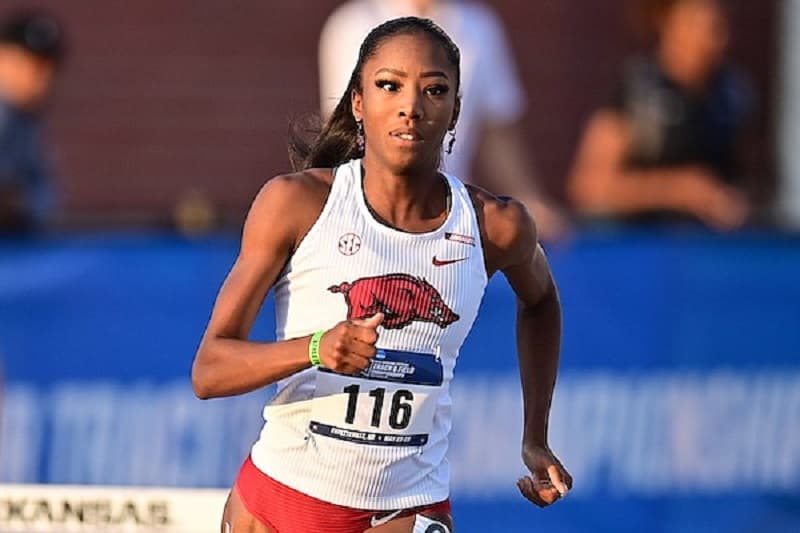 Britton Wilson who runs for the University of Arkansas broke Athing Mu's 600m collegiate record at the Arkansas Invitational on Friday (13) afternoon in Fayetteville, Ak.
The 22-year-old Britton Wilson, who won 4x400m gold at last year's World championships, kicked off her indoor season with a new US collegiate record of 1:25.16 in the women's 600m,  smashed the previous record of 1:25.80 set by the World and Olympic 800m champion Athing Mu.
The event was won by 400m hurdler Shamier Little won the race in a massive 4.5sec personal best time of 1:24.65.
Women's 600m heat 6 results:
Pl
Athlete
Time
200m
400m
600m
1
Shamier LITTLE
United States of America 
1:24.65
 
25.06
[25.06]
53.04
[27.98]
1:24.65
[31.61]
2
Britton WILSON
Arkansas [SO]
1:25.16
 
25.23
[25.23]
53.06
[27.84]
1:25.16
[32.10]
3
Shafiqua MALONEY
Saint Vincent 
1:27.45
 
25.66
[25.66]
53.86
[28.20]
1:27.45
[33.59]
4
Sanu JALLOW
Texas A&M [FR]
1:30.32
 
25.71
[25.71]
55.03
[29.32]
1:30.32
[35.29]
Complete Arkansas Invitational Results
Race Video
Similar articles
CLICK HERE to Read the Full Original Article at WatchAthletics.com – Article feed…