RECORDS AND WILD FINISHES HIGHLIGHT CHEVRON HOUSTON MARATHON AND ARAMCO HOUSTON HALF-MARATHON
By David Monti, @d9monti
(c) 2023 Race Results Weekly, all rights reserved
HOUSTON (15-Jan) — Today's Chevron Houston Marathon and Aramco Houston Half-Marathon here this morning produced two exciting sprint finishes, a near record in the women's marathon, and an American record in the women's half-marathon. It all happened in warmish conditions, some 25 degrees Fahrenheit warmer than last year, with a full field of 27,000 runners between both races.
SISSON LOWERS USA HALF-MARATHON RECORD
Emily Sisson of Flagstaff, Ariz., said prior to the race that her goal here was to compete for the win, and she hoped a fast time would follow from that strategy. Although she was never able to stay with Ethiopia's Hiwot Gebrekidan Gebremaryam –who leaped to the lead right from the gun and soloed to a 1:06:28 win– she did get the fast time she hoped for. Going out a little hot for the first 5 kilometers (15:31) she tempered her speed through 10 km (31:19) and got into a groove. At that point, she was on pace for a 1:06:04 finish, well under her USATF record of 1:07:11 set last May in Indianapolis.
But in the second half, she slowed as that early pace began to take its toll.
"I went out a little too fast the first 5-K or so, so the last few miles I was really feeling it," Sisson said in her post-race television interview.
Ahead of her Gebrekidan was also slowing, and by the time Sisson got into the final 800m she was within 30 seconds of her rival. Having the race leader in sight helped her summon some extra energy to push, and she was able to sprint home in 1:06:52, 19 seconds under her record.
"I'm really excited about it," Sisson said, wrapped in an American flag. "I really wanted to break 67 minutes, so I'm happy I did it." She added: "It was such a great atmosphere out there today. I was hurting the last few miles but the crowd was great."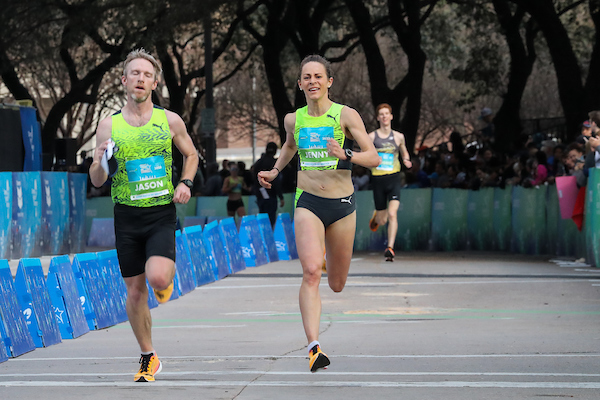 Jessica Warner-Judd of Great Britain finished third in a personal best 1:07:19, and back in ninth place 2011 world 1500m champion Jenny Simpson qualified for the 2024 USA Olympic Trials Marathon (sub-1:12:00) by running 1:10:35 in…
CLICK HERE to Read the Full Original Article at runblogrun…