Noah Lyles has fascinated track fans for years, first as a high school phenom, then, as a pro athlete with adidas. In 2019 and 2022, Noah Lyles took the 200-meter titles at the World Championships. His 2023 season has started out with a 60m PB. This is how Deji Ogeyingbo sees the future of Noah Lyles. He calls it Noah Lyles 2.0. 
Why we should be scared of Noah Lyles 2.0
The indoor season is one of the poorest indicators of how an athlete will perform outdoors. In fact, some of the world's best athletes in history somehow prefer to skip it and condition themselves for the world championships and the Olympics. Still, there is usually plenty to take away from them if you look deep into the performances of these athletes. 
Some greats like Usain Bolt, Shelly-Ann Fraser-Pryce, and Karsten Warholm never took the indoor season seriously, and they reached the pinnacle of their careers. But that's the thing about elite athletics, getting to the top doesn't follow a straight line. The sport has got limitless boundaries for each event and finding ways to reach each height is always the goal.
So, when Noah Lyles won the men's 60m race at the New Balance Indoor Grand Prix, this season's second World Athletics Indoor Tour Gold meeting in Boston, there was relief and foresight that the 200m world champion was already sorting out the weakest part of his race.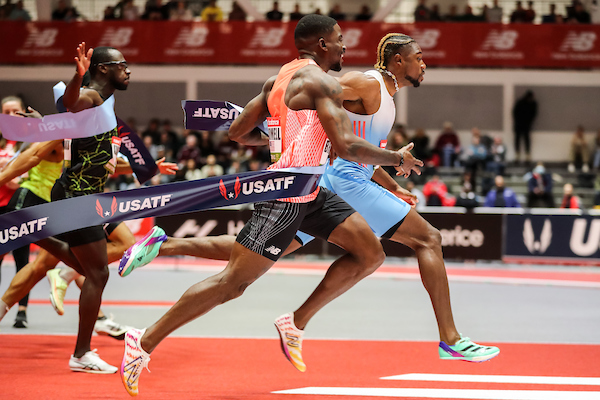 The 60m final in Boston was billed as the signature event of the meet and it did deliver. Lyles won the 60m sprint in 6.51 seconds at the New Balance Indoor Grand Prix in Boston, clipping Trayvon Bromell by two thousandths in his first top-level meet of the year. Bromell, the world 100m bronze medalist, is a past world indoor 60m champion and has a better start than Lyles, which is crucial in a six-second race.
But on Saturday, February 4,  it was a reborn Lyles. Perhaps a Lyles 2.0. The American ran down Bromell and shaved four hundredths off his Personal Best. The excitement on his face was conspicuous. And not just because he won- he has done that for a large chunk of his career, but mainly due to the fact he seemed to have sorted out his…
CLICK HERE to Read the Full Original Article at runblogrun…