Henry Wynne is a Brooks Beasts. An NCAA Indoor Champion in the mile, Henry has run a 3:51.26 indoors for the mile, and a 3:34.08 for the 1,500 meters outdoors, along with a nifty 1:47.00 at the 800 meters.
His most recent exploit was second at the 2023 USATF Indoor Champs, in the 1,500 meters, where he battled with Josh Thompson and Sam Prakel, among others, over the championship distance, at 5,320 feet of altitude.
Henry Wynne answered seven questions for RunBlogRun a couple of weeks ago. Special thanks to Henry for his honesty and to Jazmine Graham of Brooks Communications for the photos. 
Watch for Henry Wynne this spring, I think he has some surprises in 2023! 
And seriously, how can you not like a guy who watches Seinfeld and quotes Prefontaine? 
RunBlogRun, 1. What was your first experience in the sport of running?
Henry Wynne: I started running when given the option by my lacrosse coach to either run or lift weights in the off-season freshman year. For some reason, I thought running sounded easier and never anticipated where that first day of cross-country practice (where I begged my mom to quit) would take me.
RunBlogRun, 2. What were your experiences like in Cross country?
Henry Wynne: I loved cross country when I was younger, the team aspect and running through the woods always appealed to me. At first, I was doing it for fun; cross-country practice included stopping for ice cream and plenty of messing around. Gradually I started falling in love with competing and finding success in racing which further fueled my passion.
RunBlogRun, 3. How long does it take you to acclimatize to high altitude?
Henry Wynne: The more years I've been coming to altitude camp the easier it has been to acclimatize. My first year felt like it took the whole camp to get used to being at altitude, I was tired every day and struggling to fully recover. After 5 years, being at altitude feels like home and I can get used to being high up in a few days as long as I take time to ease into training.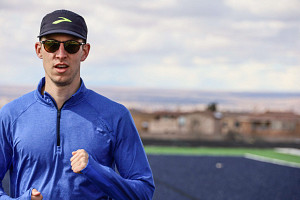 RunBlogRun, 4. What is your favorite Netflix addiction?
Henry Wynne: My favorite Netflix show right now is Seinfeld, I've been binging it and keeping it on in the background throughout the day. It's funny watching a show about a time before social media, cell phones, and life as…
CLICK HERE to Read the Full Original Article at runblogrun…