This is Race Result Weekly's commentary on the distance races from Birmingham. 
BRITISH RECORDS FOR GOURLEY, AND HODGKINSON AT THE WORLD INDOOR TOUR FINAL IN BIRMINGHAM
By David Monti, @d9monti
(c) 2023 Race Results Weekly, all rights reserved, used with permission. 
NOTE: This story was written remotely –Ed.
(25-Feb) — It was a particularly good day today for Neil Gourley (Under Armour) and Keely Hodgkinson (Nike) at Utilita Arena Birmingham.  The two British athletes not only won their individual events in the 2023 World Indoor Tour Final, but also set British indoor records for 1500m and 800m, respectively, and clinched the overall World Indoor Tour points titles in their disciplines.  As a result, they will receive award payments of USD 10,000 and have earned a bye into the 2024 World Athletics Indoor Championships in Glasgow.
Gourley's victory today was a mild upset.  His 1500m race was set up as a British indoor record attempt for 2021 Olympic 1500m bronze medalist Josh Kerr (Brooks Beasts TC) who, indeed, did make an honest attempt at breaking his own mark of 3:32.86 set in Boston almost exactly a year ago.  Pacemaker Erik Sowinski took the field through 800m in 1:53.53 with Kerr, Gourley, Adel Mechaal of Spain (New Balance), and Andrew Coscoran of Ireland (New Balance) following closely.  Kerr was comfortable leading at that point and still focused on the record.
"I really enjoy racing that way," Kerr told Athletics Weekly.  "If I had felt good being further back I would have been annoyed that I wasn't at the front."
Sowinski made it to 1000 meters in about 2:20 before stepping aside, leaving Kerr at the front with Gourley, Mechaal and Corcoran still close behind.  Kerr continued to lead at the bell, but on the final time down the backstretch he started to labor and Gourley passed him with authority.  From that point, it was Gourley against the clock.  He broke the tape in 3:32.48 about half a second inside of Kerr's record.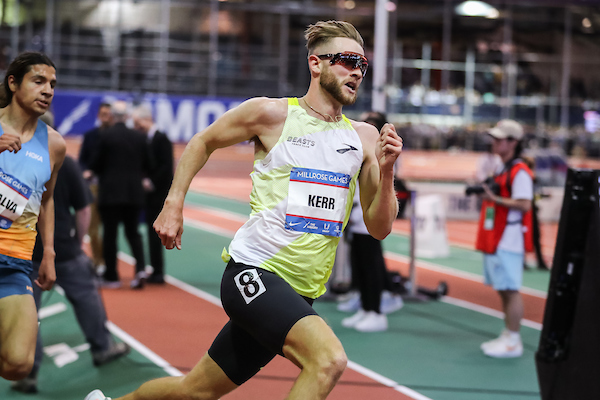 "That race was something else," an elated Gourley told British Athletics.  "I knew it was going to be quick, it was a case of hanging on and using my pace in the last 150m, and…
CLICK HERE to Read the Full Original Article at runblogrun…