Photo via Texas Tech Track and Field
Adam Clayton has made a superb start to his Indoor Season in America – and has now broken the Men's Indoor 200m Record once again.
The Giffnock North AC athlete, who is studying in Texas, came up with a run of 20.59 seconds in third place at the Big 12 Indoor Championships at Lubbock.
This is the third time Adam has bettered the existing record this year as Scottish sprinters continue to make exciting progress.
Congratulations to Adam, his family and his support teams in the States and in Scotland (including Giffnock coach Ryan McAllister).
+++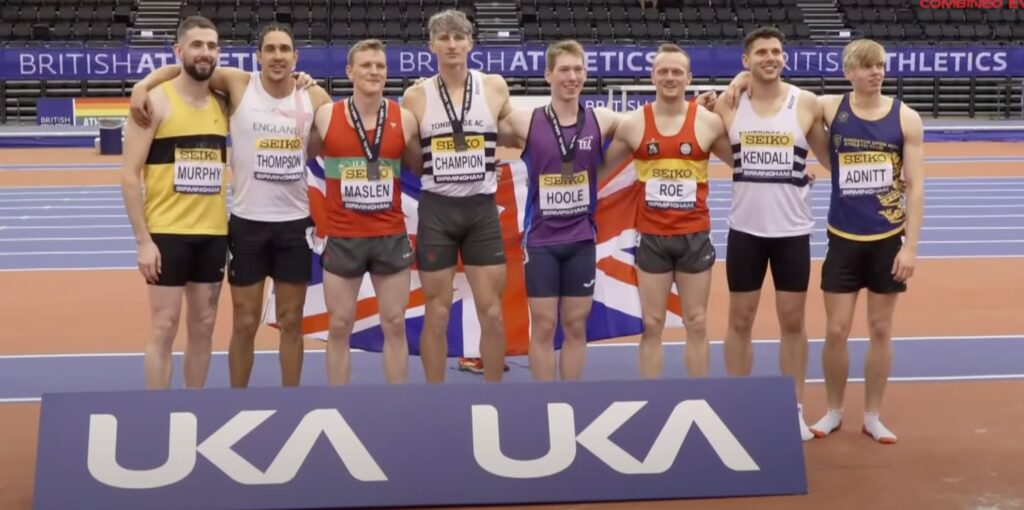 Adam Hoole has similarly impressed in the Combined Events during the Indoor Season back in Britain.
And the Team East Lothian athlete competed in the heptathlon at the British Athletics CE Indoor Champs in Birmingham.
Adam was in contention throughout the events and claimed a bronze medal following the final event on the track with 5407 points.
As it transpired, that event in Birmingham was to mark a farewell to the sport from Andrew Murphy (who finished eighth with 5083 points).
The GB and Scotland international and Scottish Record Holder (Indoor heptathlon) was a multiple medallist in our championships over the past 10 years or so.
Just as importantly, Andrew has been a superb role model for athletics and we wish him well for what comes next at this stage in his life.
Our Andrew doesn't have twitter so I'll repost this here for him:

From us all, thanks for carrying combined events in Scotland. Those lads all know they're standing on the shoulders of a giant.

My eyes are more than damp@GCphysiotherapy @scotathletics @DecathletesOfEu pic.twitter.com/JV6L8n35Mk

— SOK (@Sam0kane) February 26, 2023
Tags:
Adam Clayton, Adam Hoole, Andrew Murphy
CLICK HERE to Read the Full Original Article at Scottish Athletics…