BLACKSBURG – Since taking over the reins as Virginia Tech's director of track and field and cross country back in 2001, 22nd-year head coach Dave Cianelli has since taken the Hokies to new heights both on the track and in the field. 
Through 19 NCAA individual champions, four top-five finishes at the NCAA Track and Field Championships, and now 21 ACC team titles with Tech's runaway victory at the 2023 ACC Indoor Championships, Cianelli has slowly rebranded the maroon and orange into a national power, with the most recent trophy acquisition serving as the latest reminder. 
There's much to recap and look back on when talking about 21 ACC team crowns, but eight in particular stand out above them all. All monumental for their own reasons, but all with equal significance. 
First ACC Championship: 2007 Women's Indoor Title
Seeking just the school's second-ever ACC title to pair up with the Tech football team in 2004, the Virginia Tech women's track and field team turned in a dominating performance at the 2007 ACC Indoor Championships to claim Cianelli's first ACC crown steering the ship for the maroon and orange. 
Led by individual champions Patrice Potts in the 60m dash, sophomore Brittany Pryor in the women's shot put, and veteran Erin Mahony winning the women's pole vault, the Hokies cruised passed the second-place Miami Hurricanes with ease securing a 136-99 victory down at Clemson's Rock Norman Track and Field Complex in upstate South Carolina. 

First Outdoor Title: 2007 Women's Outdoor Championship
Looking to carry the momentum over from a successful indoor season that concluded with the program's first-ever ACC track and field championship, the women's track and field team showed it was no fluke when it captured the Hokies' first outdoor title nearly two months to the day in convincing fashion at Maryland's Kehoe Track and Ludwig Field. 
Tech was paced by individual titlists Brittany Pryor in the shot put, Kristi Castlin in the 100m hurdles, Patrice Potts in the 100m dash and Sherlenia Green in the 400m hurdles. While Ashley Early won the pole vault and Tamara Burns secured the hammer throw to give the Hokies a total of six individual winners in the 144.5-113 route of second-place Miami.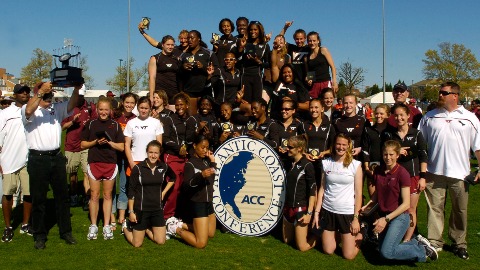 First Men's Title: 2011 Men's Indoor Championship
Hoping to acquire the school's first-ever men's ACC title in its program history, the Virginia Tech men's track and field team left no doubt at the 2011 ACC Indoor…
CLICK HERE to Read the Full Original Article at Virginia Tech Athletics…