Photo via European Athletics Twitter
Laura Muir claimed yet another major honour in her stellar career with gold in Turkey.
A fifth European Indoors gold in the Women's 1500m final means Laura has now been crowned European champion on seven occasions in total.
The favourite had to work hard for it but, as ever, dug deep to come through beyond the rest of the field to win in 4:03.40.
It means Laura is now the most decorated British athlete ever in terms of the European Indoors with five title wins – Jason Gardener and Colin Jackson each won four.
And Laura also made it 'five-in-a-row' after gold medal doubles at the European Indoors in 2017 and 2019 and then missing the next event.
Many congratulations to Laura, her family, coach Andy Young and all those who have helped in her development over a number of years.
'All the race plans went out the window,' said Laura, with Romania's Claudia Bobocea rewarded for a bold front run with silver and a PB at 4:03.76. There was a PB, too, for Poland's bronze medallist Sofia Ennaoui.
'They went off fast so I thought 'just pick them off, pick them off' but I had to work very hard to do that.
'To be fair to Claudia (Bobocea) she ran so well and you saw how much it meant to her then and I tried to pass her and she was like 'nope' and so ok, I waited and I was patient.
'I knew when I went I would be strong enough. It means so much.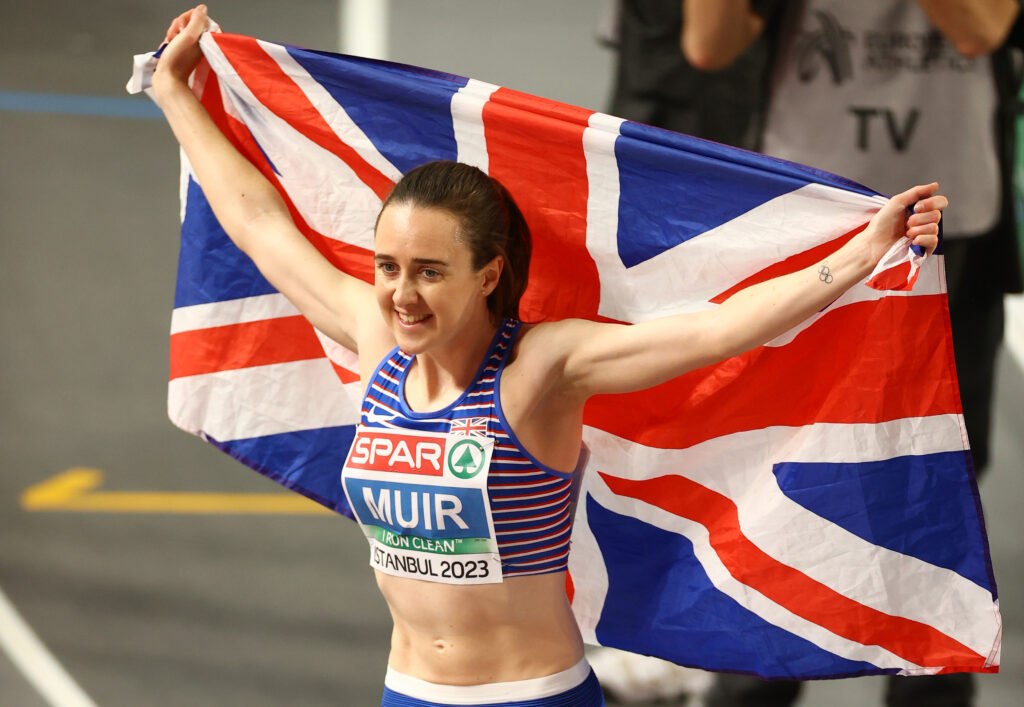 Photo via European Athletics Twitter
'I knew there was a chance Claudia could do that and I planned to come through a little bit earlier but she set a good pace so I had to work my way through slowly  and at the end of the day you have got to be adaptable at 1500m.
'I'm just fortunate that I am in that place now where I am experienced and I can just deal with the different things even if it's not what you expected and ultimately I came away with the win and I'm just so happy.
'Going into this championship I wasn't at the best I have ever been and I was a lot fitter in 2017 and 2019 when I did the double so I was quite nervous coming here.'
+++
Guy Learmonth is through to the Men's 800m final.
The second semi-final was a 'scrappy' race by Guy's admission and he finished in fifth place at the finish after a couple of incidents on the…
CLICK HERE to Read the Full Original Article at Scottish Athletics…