Stuart Weir was able, after juggling terrible wifi, to write about some of his favorite athletes. Laura Muir is in that category. Laura's fifth gold medal at the European Indoors surpasses Jason Gardener and Colin Jackson for British Athletics. Pretty impressive company for the Scottish star! 
Laura Muir wins a fifth gold.
What more is there to say about Laura Muir? A brilliantly talented athlete and a lovely person to boot. She always takes time to chat to the media after her races and gives thoughtful answers. She always seems driven but not obsessive, always with a target ahead.
Istanbul was her 5th European indoors, and your correspondent was there to see them all. No expense is spared to get the story for RunBlogRun readers. In 2013 she was sixth in the 1500 meters in Gothenburg. In 2015, 4th in the 3000. In 2017 in Belgrade, she entered the 1500 and the 3000 taking two golds. She was too fast for everyone, including the hapless official who tried to stop her from having a lap of honor. As Laura told me afterward, "I just dodged past her, and then I knew she'd never catch me!" The 2019 European Indoors was in Glasgow, Laura's adopted home city, where she studied Veterinary Science and still lives. Again she entered the 1500 and the 3000, winning both in front of a capacity Scottish crowd.
She explained recently that she has two main reasons for running indoors. She enjoys racing and would find simply training from September to May rather boring with no racing to break it up. Indoor racing is also a helpful measure of how training is going.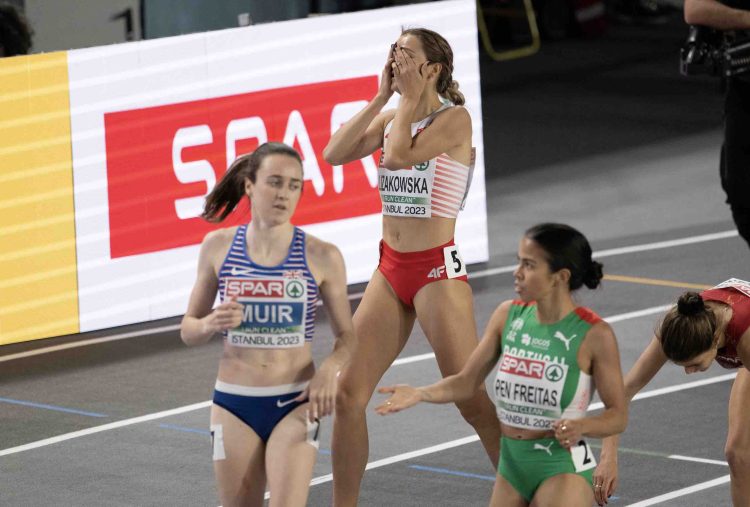 After the semi-final, we had joked about the pressure of an event where she only collected gold medals. She laughed, "I suppose the only way from here is down." Five European Indoor golds is more than any other Brit ever, beating the record held by Colin Jackson and Jason Gardener previously.
In the 1500 meters final in Istanbul, Laura was content to run at the back of the pack for the early laps, keeping out of trouble. She described the race: "The race was good. ultimately I wanted to come away with the win, and I did that. it was a fast race. the girls set off at a really strong pace from the start. I was planning on coming through early to pick up the pace, but I didn't need to do that as it was already pretty quick. I was just biding my time…
CLICK HERE to Read the Full Original Article at runblogrun…