As I was making a cup of coffee to keep me working during the midnight to 4 am shift to cover day 3 of European Athletics Indoors remotely from Wisconsin, Deji Ogeyingbo sent me a piece on Femke Bol, all the way from Nigeria. Deji had stayed up all night and was quite enthusiastic about his editor posting the piece asap. 
Deji was right, it is wonderful and it is a great appreciation of the amazing Femke Bol and what her 400m and 500m world records add to her fitness and racing tools! Thanks, Deji! 
How Femke Bol is closing in on Sydney McLaughlin-Levrone's stranglehold in the women's 400mH after her latest win in Istanbul
How do you stop an absolute phenom like Sydney McLaughlin-Levrone? Well, you just hope she falters. At least in the hurdles in which she dominates, there is a one in ten chance that might happen in big races. But it hasn't before. In fact, the American has gone on to lower the world record twice in the span of one calendar year. Do you settle like most of Usain Bolt's or Michael Johnson's rivals did, or as a competitor, you just have to find a way to get better? 
The latter is what Dutch sprinter Femke Bol is doing at the moment, and her latest victory in the women's 400m at the European indoor championships in Istanbul further accentuates the level she's at the moment. There is just no stopping her. Less than two weeks after she blazed to a world indoor record of 49.26s, Bol stormed to her sixth European title with a 49.85s victory in the women's 400m. 
"Coming to Istanbul with a world record, I could feel that everybody wanted me to go even faster and expected that I could," said Bol. "Unfortunately, it is harder than it might look. I have multiple European titles, but the world title is still missing. The world record is step one."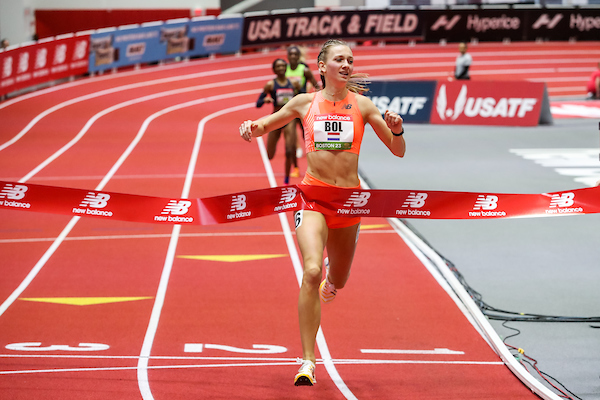 The win wasn't a surprise, really. After all, Bol is the reigning record-holder in the indoor 400m and the reigning Diamond League champion over the 400 mH. However, where it matters…
CLICK HERE to Read the Full Original Article at runblogrun…