Women's Pole Vault
The women's pole vault was absolutely stacked! Ten athletes, including:
Katie Nageotte, World, and Olympic title holder.
Aikaterini Stefanidi, herself a former world and Olympic Champion
Sandi Morris, twice world indoor champion and 4-time outdoor championship silver medalist (and keeper of reptiles)*
Holly Bradshaw, Olympic medalist 2021 but who lost most of last season when a pole break caused an injury.
Wilma Murto, 2022 European Champion
Alysha Newman, 2018 Commonwealth Champion
Nina Kennedy, 2022 Commonwealth Champion and Diamond League winner
Tina Sutej, who never seems to have bad competition.
Let the action begin!  
Sadly before the action began, Holly Bradshaw was gone.  She tweeted: "Had some Achilles & calf stiffness during the warm-ups meaning I didn't feel confident to push on the run. I didn't take the decision of pulling out lightly, but it was the right thing for today".  She explained more to me later: "It is disappointing because it should have been my return to action after a year. It is no secret that I have had up-and-down Achilles problems throughout the years. I've just been on a training camp in Turkey, which was going really well, but then my Achilles flared up slightly. I've rested now for about 10 days, hoping it will be OK, but I just really couldn't push off the start of my run today, and it felt like it was cramping, and I didn't feel safe to run.  So I just thought, 'I've competed through so much pain in my whole career, but at this point of my career, I'm not prepared to do that'. So the hard decision of pulling out is what I made today". Holly is one of those athletes who is always ready to talk on good days or bad.
Then we lost Wilma Murto with three failures at 4.45. Newman and Kennedy went at 4.55.  After 4.63, there were just three left, Morris, Nageotte, and Sutej, and only Morris had a perfect record. Nageotte cleared 4.76 at the first attempt. Sutej is at the second for a national record. Sandi Morris failed once and passed.  Only Nageotte cleared 4.81 for the win.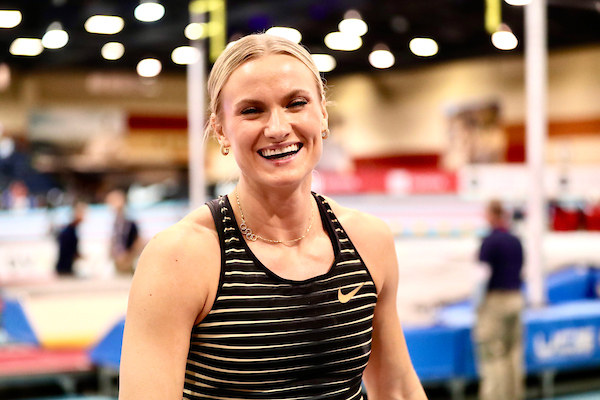 Her official comment…
CLICK HERE to Read the Full Original Article at runblogrun…