scottishathletics are pleased to confirm a team of six young hill runners for the forthcoming International Mountain Cup.
The event, which is for U18 athletes, takes place in Annecy in France at the end of this month.
Last Sunday, the were shrouded in mist for the Lomonds Juniors Hill Race (the trial race). Runners couldn't see the top of the hill or much else due to the low mist.
Nonetheless our young athletes relished the conditions and put in some excellent performances. Athletes born in 2006 and 2007 were racing for the two automatic places available in both the girls and boys race.
Thomas Hilton (Moorfoot Runners) and Jessica Taylor (Edinburgh AC) were clear winners in both categories. The trial race was two laps, 5.8km with 200m of climb and descent.
Scotland team for International Mountain Cup:
Jessica Taylor (Edinburgh AC); Katie Meek (Inverness Harriers); Isla Paterson (Gala Harriers)
Thomas Hilton (Moorfoot Runners); Ronnie Brown (Team East Lothian); Rowan Taylor (Lasswade AC)
The U18 Mountain Cup is on 27 May in Annecy, France. The team will be racing over the ski pistes above the Lake Annecy over one lap of 4.6km and 230m.
Congratulations to all our selected athletes and their families, coaches and clubs.
+++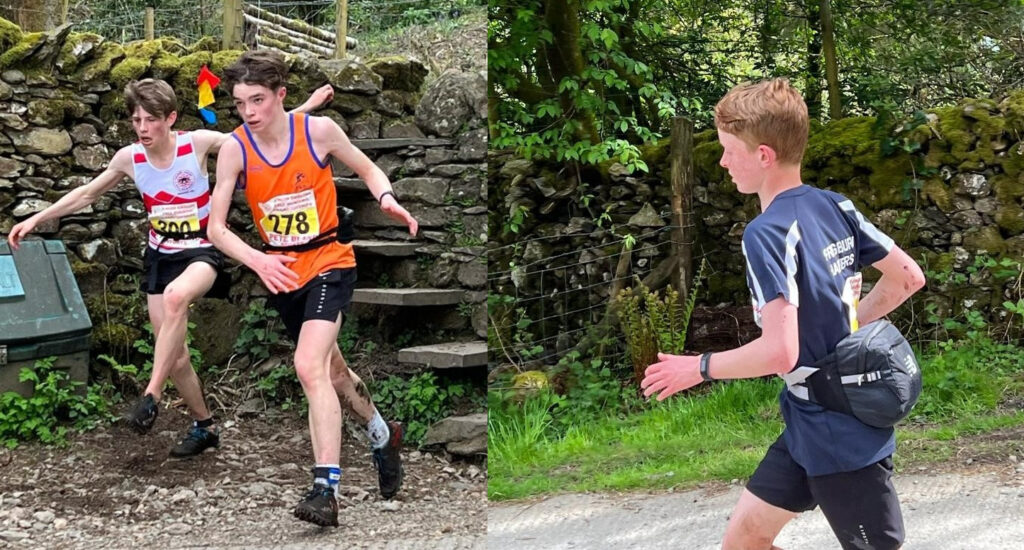 A strong contingent of Scottish hill running talent, representing 11 different clubs, made the journey south to Ambleside on Saturday for the English Junior Championships.
Despite very warm and humid conditions the Scots performed extremely well with seven athletes in the top 10 of their respective races. A particular mention for Jonathon Downey of Kilmarnock Harriers for his second place in the MU19 category.
Thanks to Craig Pagett and Janine Grant for arranging minibus transport for the athletes and also for the photos.
Results:
Gregor Wright (Haddington) 4th MU11
Eilidh Mowbray (Lasswade) 23rd FU15; Anna Ross (VP Glasgow) 4th FU15
Ethan Scobie (Giffnock) 20th MU15
Calan Chong (Giffnock) 11th MU17; Struan Gatherer (Perth Strathtay) 8th MU17; Andrew Grant (Strathearn) 20th MU17; Dan McGuire (Harmeny) 23rd MU17
Freya Mowbray (Lasswade) 16th FU17
Rowan Taylor (Lasswade) 5th MU17; Archie Watters (Springburn) 24th MU17
Jonathon Downey (Kilmarnock) 2nd MU19; Harris Pagett (Strathearn) 4th MU19
Isla Patterson (Gala Harriers) 7th FU19
Angus Wright (Team East Lothian) DNF MU19. Felt unwell.
With thanks to Phil Mestecky
+++
CLICK HERE to Read the Full Original Article at Scottish Athletics…