On April 23, 2023, Sifan Hassan made history, winning the London Marathon in her debut marathon. The truth is this: the 2023 London field was one of the toughest ever assembled in race history. Hassan used a unique method to win, and that makes sense, as she is a unique athlete. 
Stuart Weir wrote this piece on Sifan just after the marathon. I missed it, but I think it even resonates now more than in the week after the race. Sifan Hassan is expected to compete in Budapest 2023 and Paris 2024; just what will she do in both? 
Sifan Hassan adds another title.
Just days after Hellen Obiri won the Boston Marathon, Sifan Hassan, another "track" athlete, won London.  With world-record holder Brigid Kosgei, Olympic champion Peres Jepchirchir, previous London champion Yalamzerf Yehualaw plus the peerless Genzebe Dibaba in the field, the annual claim to have assembled the strongest field ever seemed justified this year.  
Hassan did not run the classic marathon race, stopping twice to stretch her left leg during the first half of the race.  She dropped 20 seconds off the lead but gradually made up the distance to win by 4 seconds from Alemu Megertu. 
Hassan commented afterward: "I have no words. My leg was bothering me; I had a hip problem a week ago. I forgot to tape it this morning. I stopped and stretched, and they disappeared, but I started feeling good after 10K. I can't believe I've finished, let alone won. I can't believe I've finished a marathon. I was so scared for the marathon. I put a lot of pressure on myself. I'm so stupid to play this kind of game. What was I thinking, running a marathon? I never cry, but this morning I was crying!"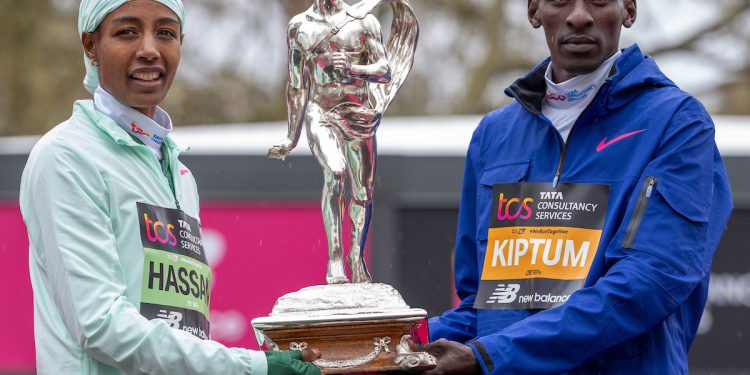 Her preparation has also not been classical with the requirement to observe the Muslim fast during Ramadan.  She was quoted in The Times before the race, "With fasting for the whole month, I don't know what that's going to do to my body".
There is a…
CLICK HERE to Read the Full Original Article at runblogrun…