Scotland team announced for 2023 Loughborough International 
Scotland compete at the Loughborough International once again this weekend as the event celebrates its 65th anniversary.
scottishathletics confirmed our team selection earlier this week for Sunday's event at the Paula Radcliffe Stadium.
Scotland are up against five other teams in the event with opposition from England, Wales, GB and NI U20s, the hosts Loughborough University and a select from the National Athletics League.
We send our best wishes and good luck to all athletes competing for Scotland – and, indeed, to all other Scots due to compete at Loughborough – and to their families, coaches and clubs.
The selection is listed below and now we are pleased to confirm our Team Staff for the weekend.
Team Manager: Julie Mollison
Head Coach: Mark Pollard
Sprints: Allan Scott and Chris Baillie
Jumps: Allan Hamilton
Endurance: Nichola Crawford
Throws: Alison Grey
Physiotherapist: Iain McEwan
Thank you to the volunteers involved in our Team Staff for your commitment to the sport and to the Loughborough International 2023.
Loughborough Uni Sport website preview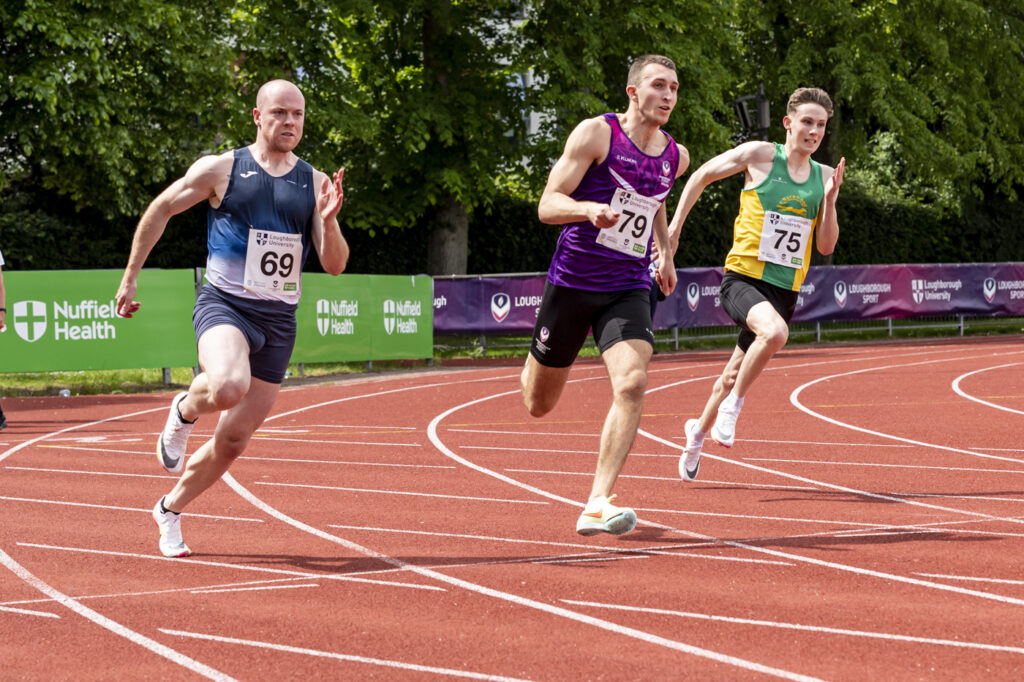 Action from the 2022 event with Grant Plenderleith racing for Scotland and Greg Kelly for Loughborough Uni (photo by Bobby Gavin)
Scotland Men
100m, 200m – Krishawn Aiken; 400m – Kyle Alexander; 800m – Kane Elliott; Mile – Jamie MacKinnon; 3000m – Conan Harper; 110m Hurdles – Adam Hoole; 400m Hurdles – Jack Lawrie; 3000m Steeplechase – Michael Cameron
Long Jump – Alessandro Schenini; High Jump – Will Grimsey; Triple Jump – Bera Ajala; Pole Vault – Reuben Nairne; Javelin – Greg Millar; Discus – Nick Percy
4x100m Relay – Aiken, Ethan Pottie, Finlay Waugh, Cian O'Donnell, Adam Thomas
4x400m Relay – Alexander, Lawrie, Murray Fotheringham, Greg Kelly, Max Leslie
Para selections
100m, 400m – Alexander Thomson; 1500m Steven Bryce
Scotland Women
100m – Alyson Bell; 200m – Lois Garland; 400m – Carys McAulay; 800m – Hannah Cameron; 3000m – Megan Davies; 100m Hurdles – Jane Davidson; 400m Hurdles – Emily Craig
High Jump – Jenna Hilditch; Triple Jump – Libby White; Hammer – Angela McAuslan-Kelly; Javelin – Dawn Russell; Shot – Teddy Tchoudja; Discus – Kirsty Law
4x100m Relay – Alisha Rees, Rebecca Matheson, Lois Garland, Georgina Adam, Sarah Malone
4x400m Relay – Carys McAulay, Hannah Cameron, Sofia Vidak, Jill Cherry,…
CLICK HERE to Read the Full Original Article at Scottish Athletics…