Jack Lawrie takes a fine win in the Men's 400m Hurdles at Loughborough (photo by Bobby Gavin)
*Please note this round-up does not set out to report on every single peformance and is subject to corrections, updates in due course.
Discus duo Kirsty Law and Nick Percy once again posted Loughborough International event wins on a solid day of Scotland performances.
A quickfire track double in mid-afternoon from Jack Lawrie in the 400m hurdles and Carys McAulay in the Women's 400m gave us full points there, too.
And Steven Bryce savoured a fine repeat win in the Para 1500m after winning here last year – with this time the Para events included in the overall match.
Those were the event wins but the overall pictures was about PBs, strong performances and lots of learning in a large Scotland team with a wide range of experience of this kind of event – from 17-year-old Jenna Hilditch to our Loughborough International appearance Record-holder, Kirsty Law.
It is always an honour for athletes at all ages and stages to pull on a Scotland vest.
That pride was evident throughout the weekend and we were delighted to have no fewer than 16 athletes make their first appearnace for Scotland at Senior level.
Those 'new caps' were as follows:
Dawn Russell, Jenna Hilditch, Jamie MacKinnon, Conan Harper, Adam Hoole, Loise Garland, Hannah Cameron, Jane Davidson, Ethan Pottie, Finlay Waugh, Cian O'Donnell, Max Leslie, Sofia Vidak, Bera Ajala and Steven Bryce.
It is also the first time that the Loughborough International has included Para events within the Match scoring. We were pleased to have Alexander Thomson, Steven Bryce and Maria Lyle wearing Scotland vests in these events.
Steven delivered a fine win in his 1500m race with a 4:06 run that was strong enough to hold off a big challenge from England on the home straight.
It was a repeat win from last year, with the difference this year being points for Scotland after that move by the Loughborough event organisers to fuller integration.
Match Score: 1 England 202, 2 Loughborough 154, 3 National League 153, 4 GB Juniors 136, 5 Scotland 123.5, 6 Wales 79.5.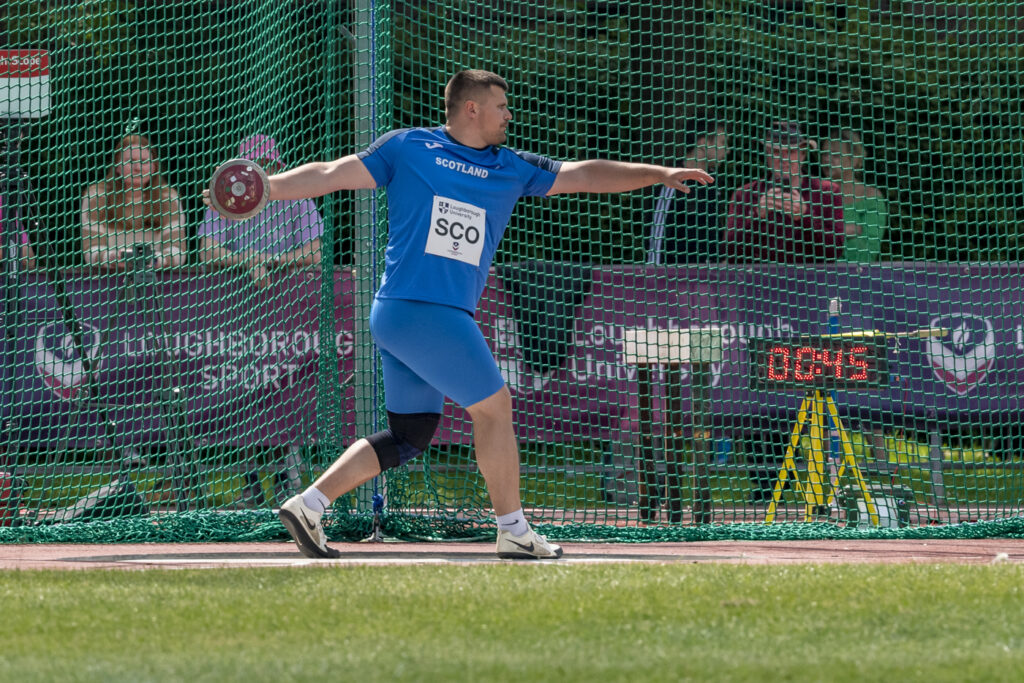 Nick Percy on his way to the win in the Men's discus (photo by Bobby Gavin)
'Teamwork makes the dream work' – our video interviews from Loughborough
Kirsty Law almost has as many Loughborough appearances as those…
CLICK HERE to Read the Full Original Article at Scottish Athletics…