'Teamwork makes the dream work' – our video interviews from Loughborough
Jane Davidson has spoken about the strong sense of pride when pulling on a Scotland vest at the Loughborough International.
The Aberdeen AAC hurdler was one of no fewer than 16 athletes to make their Senior Scotland debut at the traditional annual match.
And Jane's selection for the sprint hurdles on Sunday completed the circle for one of best-known families in athletics in Scotland.
Dad Mark won a Commonwealth Games silver medal in the 4x400m Relay in New Zealnd in 1990 and Jane's mum, Fiona, is also a Scotland international.
In point of fact, the future Mr and Mrs Davidson actually met on a Scotland trip to Turkey back in 1994 . . .
'It meant an awful lot to me to wear the Scotland vest,' smiled Jane, who has been in the sport for a dozen years and did hurdles out in her street during Covid lockdowns.
'I think with there not being too many opportunities in track and field to be picked for a Senior Scotland team when you do get that call-up it is emotional and you feel a strong sense of pride.
Meet the Davidsons . . . Katy Barden's feature on the family in June 2020
Photo by Bobby Gavin
'I am really lucky to have parents who know so much and have been there, done it. Both my dad (Mark) and my mum (Fiona) were Scotland international athletes in their careers and the story goes that they met at a Scotland international trip . . .
'They have wise words for me and that's helpful as you try to progress through the sport.'
Jane clocked 13.78 on Sunday, two hundredths shy of a PB, and was determined to savour the experience.
'I very much enjoyed it. It was a long day waiting to compete as my race was one of the last on the event programme but it was really good fun and I'm happy with my run.'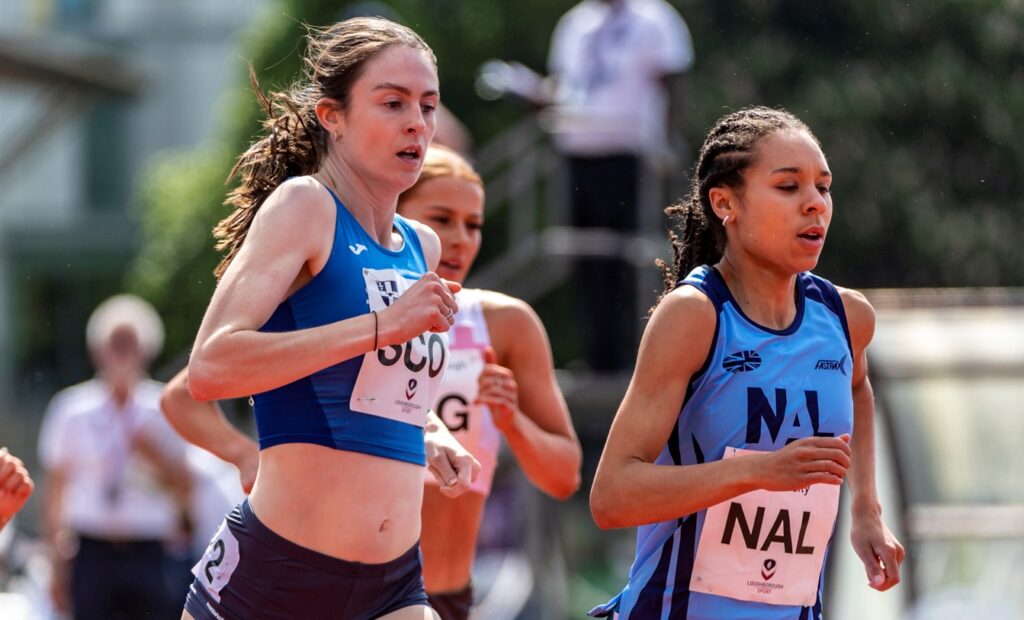 Hannah Cameron made her Scotland debut in the Women's 800m (photo by Bobby Gavin)
Jane was one of four Aberdeen AAC athletes in representative action on Sunday while endurance coach Nichola Crawford was with our staff team.
Angela McAuslan-Kelly competed for GB Juniors in the Hammer and Jane was joined in the Scotland team by 800m runner Hannah Cameron and sprinter Rebecca Matheson. Hannah was one of our debutants.
'There are a lot of good things happening around Aberdeen AAC as a club at the moment,' said Jane.
'We're developing young…
CLICK HERE to Read the Full Original Article at Scottish Athletics…