WC / Day Seven: Fans Feast On Furlong Fury
Jackson's and Lyles' Domination Leads To Gold
2023 World Athletics Championships
Budapest, Hungary
August 25, 2023
With the concluding weekend of the 2023 World Athletics Championships drawing near, subtle signs of the athletes and their mindsets can often be observed. For some, they can be tired from the intense competition and anxious about the increasing pressures that emerge during these closing days. But for others, they have settled in, adjusted to the daily protocol, and are eager to compete on the big stage. We'll soon find out which athletes stutter in these critical closing days and which athletes embrace it.
Here is what unfolded in the evening session of Day Seven of these championships…
After a long day of exciting and often improbable events on the track and in the field, a capacity crowd eagerly awaited the final events for Day Seven: the women's 200-meter final and the men's 200-meter final.
w200m – Final: The women's final had been analyzed as a five-way showdown among Sha 'Carri Richardson, Gabby Thomas, Julien Alfred, Shericka Jackson, and Dina Asher-Smith. But shortly after the race got underway, it was clear that this would more aptly be seen as Shericka Jackson's golden celebration. Unchallenged down the homestretch, the Jamaican crossed the line in 21.41 – a world leader and #2 on the all-time list behind FloJo's long-standing 21.34 WR in the '88 Games. USA's Thomas (21.81) finished 2nd for the silver, while USA's Richardson (3rd in 21.92 PR) captured the bronze to go along with the gold medal she won in the 100-meter final.
m200m – Final: In the men's 200m final, all eyes were on USA's Noah Lyles and his quest to complete the much-ballyhooed 100m/200m sprint double. Soon after the gun was fired, it became clear that this championship race would be quite similar to Jackson's dominating performance just minutes before. When Lyles' signature curve sprint put him in the lead entering the homestretch, the race was frankly over as Noah soon crossed the finish line in 19.52. USA's teenage phenom Erriyon Knighton (19.75), unphased by the bright lights and big stage, raced like a veteran to snag the silver, while Botswana's Letsile Tebogo (19.81) earned bronze to go with the silver he won earlier in the men's 100m final.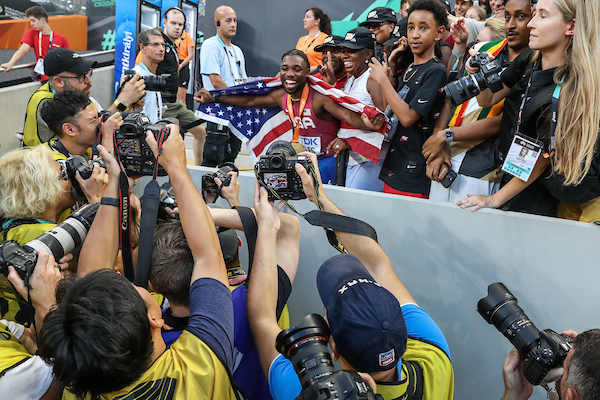 CLICK HERE to Read the Full Original Article at runblogrun…