Josh Kerr on top of the World Champs Men's 1500m podium (photo by Getty Images for World Athletics)
Made in Scotland from girders: who Josh had the bottle for Jakob battle
By Peter Jardine, Head of Communications
So, with a thrilling World Champs in Budapest now concluded, the time is right for a few reflection on where our Scottish elite athletes stand globally.
The answer, of course, is right in the very top echelon.
Six athletes out of eight selected for GB and NI saw action in Hungary with Josh Kerr and Nicole Yeargin heading home with medals as precious cargo.
In a wider context, the performance of our four middle distance individual finalists is well worth noting
*Josh Kerr Men's 1500m: First
*Jemma Reekie Women's 800m: Fifth
*Laura Muir Women's 1500m: Sixth
*Neil Gourley Men's 1500m: Ninth
So four Scots in top ten positions at the 2023 World Champs and here's the rub – athletics is a truly global sport.
We are reliably informed that no fewer than 46 countries won medals in Budapest. That simply emphasises the reach of the sport and the level of competition.
Without entering into too much debate, would seriously doubt if that kind of depth applies across, say, swimming, cycling or curling.
The medals across these sports achieved are simply not 'apples for apples'. The degree of difficulty is far higher i athletics; and our top Scots are living with that breadth and depth every time they compete at elite level. They seem to be handling it rather well.
+++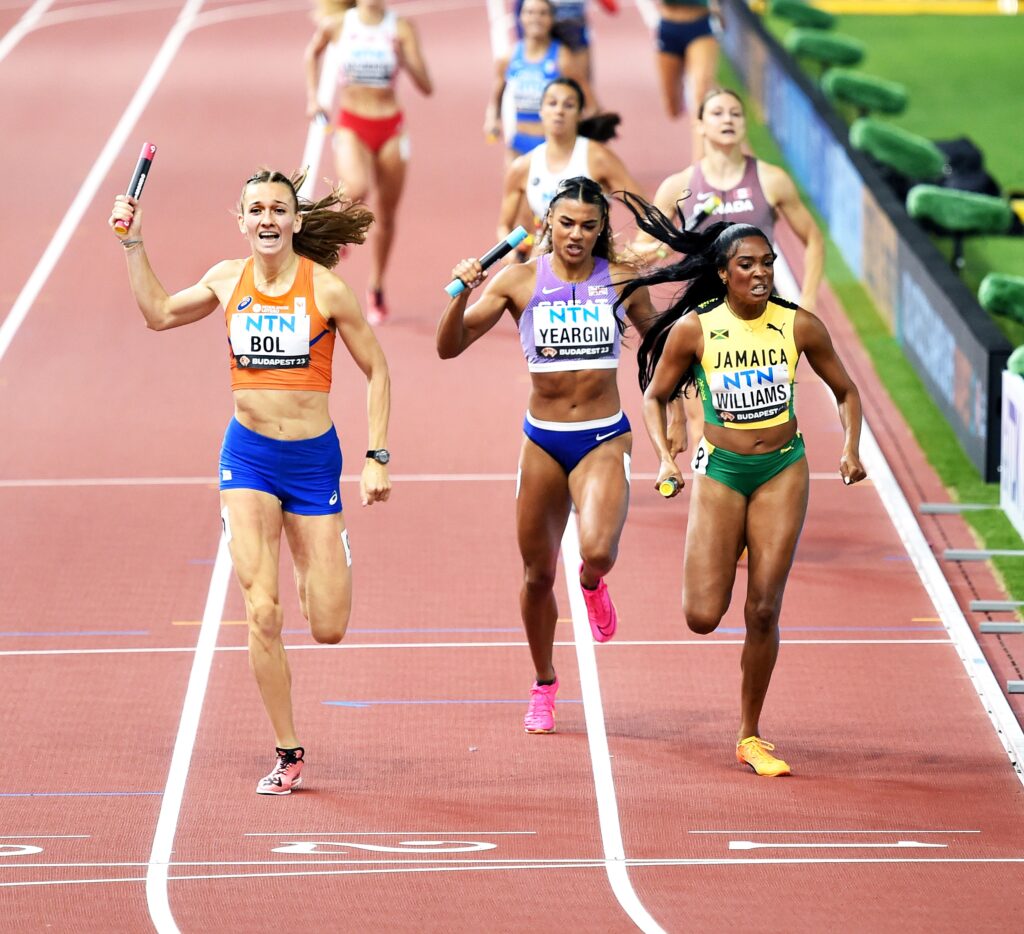 Photo by Mark Shearman
Relays generate excitement. And, for GB and NI, invariably medals.
Three bronzes out of a possible four was the overall team tally in the regular events (plus Mixed Relay silver) and our own Nicole Yeargin played a significant role in the Women's 4x400m podium moment which topped off a fine championships.
Scotland's National Record in the Women's 4x400m stands at 3:29.18.
That time was set at the Commonwealth Games in 2018 with the team featuring London 2017 relay medallists Eilidh Doyle and Zoey Clark joined by Lynsey Sharp and Kirsten McAslan. Despite the Scottish Record, the team finished sixth at Gold Coast.
Ponder, then, the 3:21.04 time posted by Laviai Nielsen, Amber Anning, Ama Pipi and Nicole. It was the second fastest time ever by a GB and NI quartet.
Nicole's own anchor leg split was 49.8 and she was involved in a three-way battle for gold, silver and bronze ultimately won by…
CLICK HERE to Read the Full Original Article at Scottish Athletics…