World Champions in action
A recurring theme of the evening was how well the champions of Budapest – or champions of the world rather – manage to motivate themselves for another race so quickly?
Sha'Carri Richardson stormed to victory in the 100 in 10.88 – a bit slower than the 10.65 in Budapest. Richardson commented: "I am feeling really good for being able to finish this season as fast as I can. I am definitely grateful, and I am excited with the way this season is going". Shericka Jackson won again 21.82 in Zurich compared to 21.41 in Budapest. Jackson said: "This full house is wonderful; I enjoyed the atmosphere a lot. I wanted to come out here and perform. To be honest, the season has not finished yet".
Danielle Williams was for many people, a surprise winner of the 100m hurdles in Budapest, but she again beat Keni Harrison, Alaysha Johnson, and Nia Ali.  Williams commented: "It is a wonderful feeling coming out here as a World Champion. I mean, I have to give all the thanks for that. The race was a bit slower than I expected, but I came out injury-free and with a win, so I can't complain".
Noah Lyles 19.80 again proved himself to be the best over 200m
Josh Kerr  (3:30.51) seemed to have won the 1500 but was passed on the line by Nared Nuguse (3:30.49), who commented: "My mindset is always like 'Never give up. Keep going, keep trying. I was going for it when Kerr opened on the inside. It was a great competition, a great time for me. This race was amazing. I always have a strong finish; I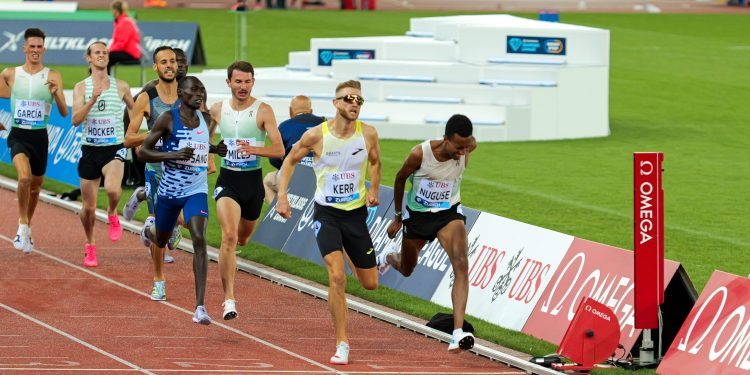 am pretty happy now. I would say that I kept this race interesting".
Kyron McMaster was a shock winner in Budapest in the 400h, and he pulled off the shock of the night, beating Karsten Warholm 47.27 to 47.30.  McMaster said: "It feels good to get this win after the World Championships last week. I executed and did what I had to do". The ever-gracious |Warholm said: "Nobody wants to lose, but at the same time, it is a fast time. McMaster gave me a really nice fight and I respect…
CLICK HERE to Read the Full Original Article at runblogrun…