Scotland athletes line up ahead of the Vertical Nasego races (with thanks to Ross Gollan for photos)
From Andy Douglas
Bright blue skies and warm temperatures made for scenic but challenging conditions for the Scottish team in their outing at the Vertical Nasego race in Italy.
With 1,000m of elevation gain over 4km, the climbing is relentless for the duration of the 35-45min course.
In the women's race the course record was shattered by Andrea Mayr who beat her own previous best time on the course by over 30s, finishing in a time of 38:06.
Our very own Scout Adkin competed closely with her in the first half of the race, before the Austrian World Uphill Champion pulled away over the steep, technical terrain in the latter stages.
Scout was edged into 3rd place by Kenyan Philaries Kisang as she just fell short of catching her in the final ascent to the finish. However, an excellent podium finish gives Scout more valuable World Cup points in the race for the overall series title.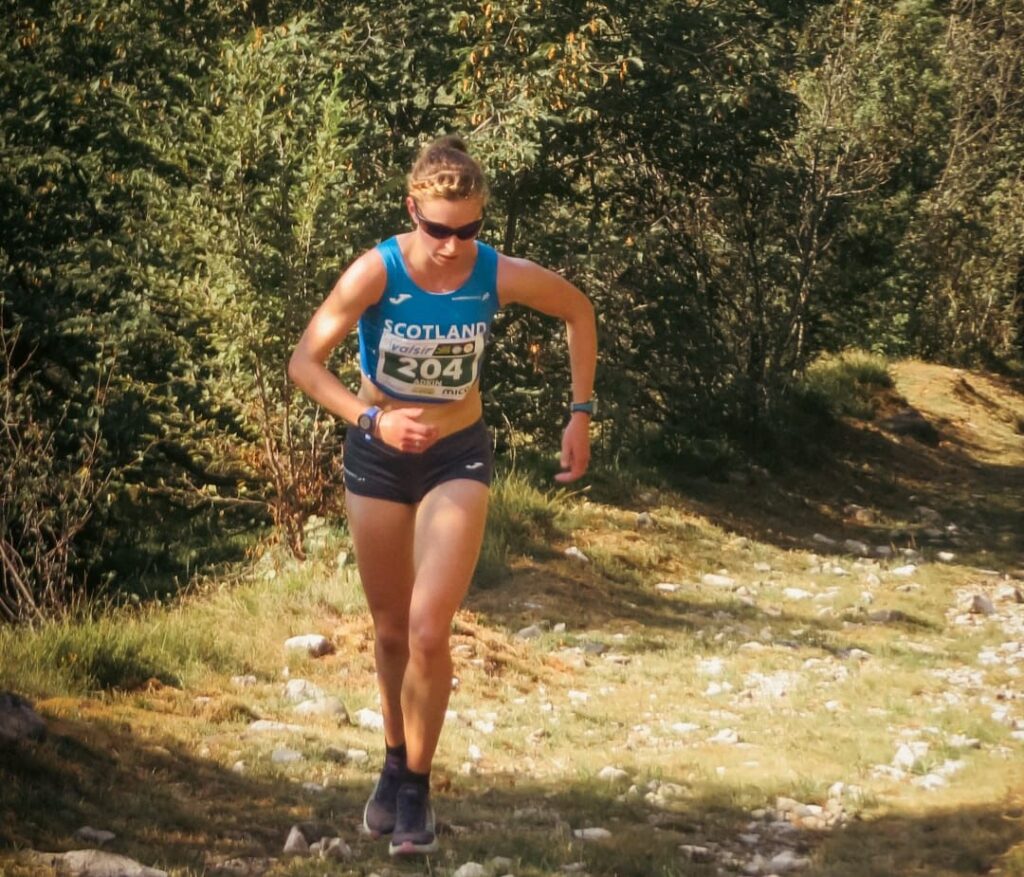 Holly Page (10th) secured an excellent top-10 finish in a World class field, just behind fellow GB-teamates Sara Willhoit (sixth) and Phillipa Williams (ninth).
Not far behind, Naomi Lang (12th) was with her fellow compatriots for much of the race before the last third of the course.
Naomi was a late replacement for Alice Goodall who unfortunately had to miss out due to illness.
Just outside the top-20, Kirsty Dickson (21st) was also suffering from illness before the race but despite this dug in and worked her way through the field over the course of the race.
In the Men's race which kicked-off 45min after the women, Jamie Crowe and Jacob Adkin sat in the front pack for much for the opening couple of km, with Alasdair Campbell and Rory Abernethy settling in a few places back.
As the morning wore on the beaming sun and warming temperatures were making it even tougher to race in.
The winner was Kenyan World Uphill champion Patrick Kipngeno in 34: 25, with Jacob (12th) arriving at the finish as third Brit behind Joe Steward (third) and Chris Richards (10th); a very respectable result in amongst some of the Worlds' best Vertical racers.
Rory (17th) worked well through the field excelling at the steeper terrain, and along with Jamie (19th), secured a hard-earned top-20 finish. Alasdair (34th) rounded off the Scottish team in a field of 113 finishers in the Men's race.
Vertical uphill-only races are few and far…
CLICK HERE to Read the Full Original Article at Scottish Athletics…