KERR and EALEY
BRING GOLDEN GLORY
TO "LAND OF ENCHANTMENT"
XXXXXXXXXXXXXXXXXXXXXXXXXXXX
By ELLIOTT DENMAN
From all reports, "Oppenheimer" is a box office smash success, bringing vast crowds back to the cinema nearest you after the long pandemic had nearly put the whole film industry on life support.
And, by the way, it's shining the global spotlight on the State of New Mexico – which, as its license plates forever tell you, is "The Land of Enchantment."
"Oppenheimer" is, of course, a very heavy hitter, reminding every moviegoer that no less than the future of all humanity may have been at stake as those mushroom clouds were raised over the New Mexico desert.
Moving along to far lighter fare here's telling you that a lot of New Mexico-style heavy-hitting was also going on at the 19th World Championships of Track and Field last week at Budapest's National Athletics Stadium.
Totally "enchanting" were the New Mexico-themed paths that first took Josh Kerr and then Chase Ealey to the top of the podium in the historic Hungarian capital city. They may have represented different nations in Budapest, but they surely brought shared glory back to N.M.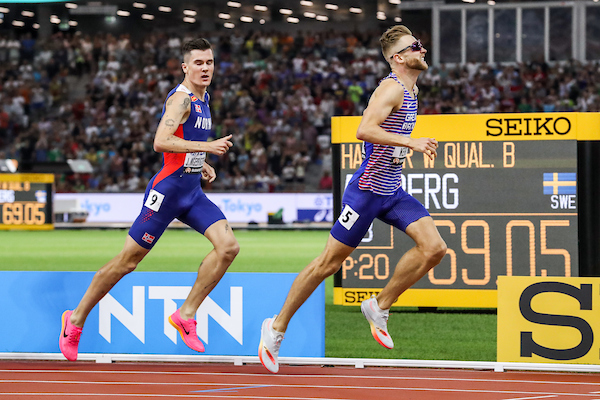 Kerr, the bewhiskered, sunglassed Scotsman who'd been an NCAA champion at the University of New Mexico, stunned heavily favored Jakob Ingebrigtsen of Norway, battling gustily through the concluding meters, 3:29.38 to 3:29.65, to take the World 1500 crown on Wednesday, August 23.
He'd tell the media: "I needed every single ounce that I had today."
"I threw everything I had at that last 50. I don't think there was anyone in the world that was going to want that more than me today.
"Those last moments of the race will be engraved on my brain for a very long time. I knew I had him with about 50 meters to go. I ran that last lap as well as I could, and today it was all heart, all guts, and remembering all the really hard yards (and meters) it took me to get here."
Soccer-wise, Scotland competes as its own World Cup entity – which is something of a contentious issue down in London.
But Kerr's crown was very big news up in Edinburgh and, of course,/of course, in…
CLICK HERE to Read the Full Original Article at runblogrun…