The behind-the-scenes battle to have the world's two most popular and fastest sprinters were won by Nike Pre Classic earlier this week. The long season, preceded by Tokyo 2021 and Eugene 2022, and the spectacular 2023 season, has taken its toll on Noah Lyles and Sha'Carri Richardson. The exhilaration, the energy used to win gold in 100m, 200m, and 4x100m for Lyles and 100m gold, 200m bronze, and 4x100m gold for Richardson had to be exhausting. 
While Sha'Carri Richardson was not in doubt to appear in Eugene, Noah Lyles was. Last week, after Zurich, Noah Lyles noted his season was over. Two days later, he noted on X, formerly Twitter, " I might have one more 100m race this season."
And so, he does! 
RunBlogRun will be in Eugene. We hope that you will join us for the Diamond League Finals on September 16-17, 2023. 
The world's fastest athletes promise a thrilling start to The Prefontaine Classic.
EUGENE, Ore. – The world's fastest athletes, Sha'Carri Richardson and Noah Lyles, are expected to take the stage on Saturday, September 16, at The Prefontaine Classic, which serves as this year's Wanda Diamond League Final. The Prefontaine Classic announced today that both athletes have been confirmed to headline their respective 100-meter races.
Sha'Carri Richardson declared, "I'm not back. I'm better." following her 100-meter win at the 2023 Toyota USATF Outdoor Championships in July at Hayward Field. She followed her national title by taking home gold at the 2023 World Athletics Championships Budapest23 in both the 100-meter and 4×100-meter relay and bronze in the 200-meter. The two-time World Champion intends to keep that promise at this year's Prefontaine Classic women's 100-meter.
Fresh off a legendary World Athletics Championships gold medal triple (100-meter, 200-meter, and 4×100-meter relay), Noah Lyles looks to add another Wanda Diamond League Champion trophy to his case. Already a four-time Diamond League Final Champion in the 200m (2017, 2018, 2019, and 2022), Lyles is seeking his first title in the 100-meter from the event. The Olympic medalist's wind-legal personal best of 9.83s was set just this season and currently has him ranked first globally in the event.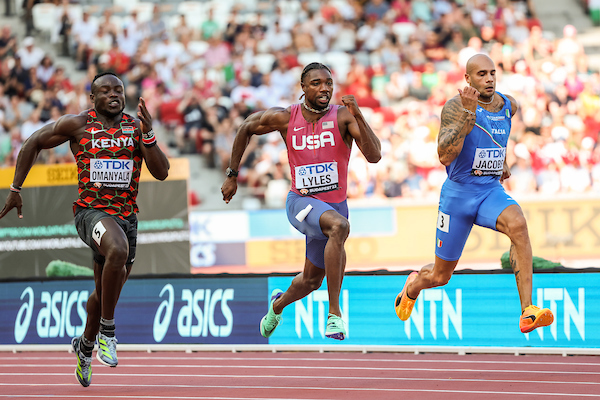 CLICK HERE to Read the Full Original Article at runblogrun…