This is Stuart Weir's second column on Zurich Weltklasse, which occurred on August 31, 2023.
The Weltklasse – living up to its name
The Weltklasse would be on anyone's list of best Diamond Leagues, held annually in the Letzigrund Stadium, Zurich.  A sell-out 25,000 crowd provided a great atmosphere this year.  Often, the event is the Diamond League final.  That it was not this year did not seem to diminish it.
The last two events before the official start of the 2 hour TV program set the scene for the Swiss crowd, with Marcel Hug winning the 1500m wheelchair race before Jason Joseph won the 110m hurdles in a Swiss record 13.08.
At the pre-event press conference, the meet director acknowledged that it was a little arrogant to call your event Weltklasse (World Class), adding that there was then pressure to deliver!  He need not have worried this year as the Weltklasse certainly delivered with a balanced program of throws, jumps, and races – sprints, middle and long distance, hurdles and steeple, plus a relay to finish. And before that, kids races and national races to warm up the crowd.
Then there were the global stars who strutted their stuff: 
Noah Lyles won the 200 in 19.80 with the top four under 20 seconds!
Mutaz Essa Barshim soared to 2:35 in the high jump; Mondo added to his extensive collection of 6-meter leaps.
Miltiadis Tentoglou won the long jump, as he usually does.
Sha'Carri Richardson brought her usual glitz and grace, not to mention raw speed, to a 100m win.
Winifred Yavi again took the steeplechase.
Yulimar Rojas took the triple jump, but then she always seems to!
Yared Nuguse won the 1500 in 3:30.49.  He wasn't the favorite, but is such a great athlete that you can't call it a shock.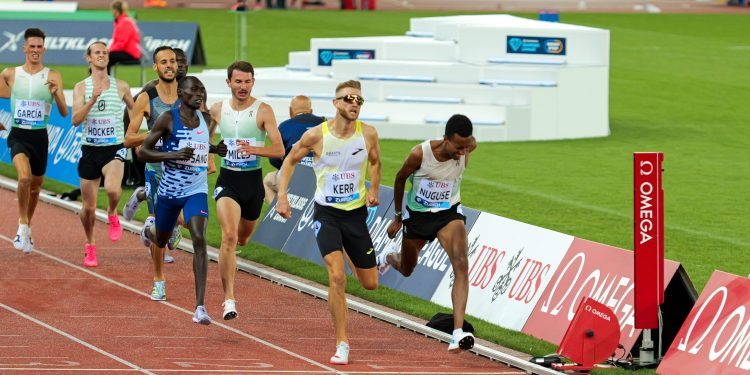 Not a winner, but it was great to see Sam Kendricks's clear 5.95 because, as well as being a great vaulter,he is such a nice man.  He celebrated his success by sprinting 100m down the track.  It's OK, Noah, he wasn't that fast.
There were shocks:
Kyron McMaster had clearly not been told that he was…
CLICK HERE to Read the Full Original Article at runblogrun…