Season-Ending Glory Highlights Diamond League Final
Prefontaine Classic
Hayward Field
Eugene, Oregon
September 16th, 2023
Day One
It starts in early December as the indoor season begins. It is a small-track competition that runs up to mid-March. It is soon followed by the outdoor season, a series of meets that can span the globe as the professional athletes begin to hone their craft in earnest. As summer emerges, so do the all-important trials for spots on international teams that will represent their respective countries in mid-summer meets. All-important global competitions soon follow as athletes seek to reach their peak performances. As the summer begins to fade, so do some of the athletes. For world-class athletes chasing glory, the professional track and field season can be punishing.
Notwithstanding the grind, one of the not-to-be-missed, late-season competitions is the Diamond League final – the last stop on a stream of international track & field gatherings that run from spring to early fall. This two-day track & field finale is called "The Olympics In Two Days." This year's zenith event is being held for the first time in the United States. Here is how global athletes around the world performed on the gleaming new facility in Eugene, Oregon, on Day One.
wJT: Japan's Haruka Kitaguochi was the winner with a best mark of 63.78m/209'3" followed by New Zealand's 61.30m/.201'1". Finishing 3rd was Australia's World Championship bronze medalist Mackenzie Little (61.24m/200'11").
mTJ: Italy's Andy Hernandez had the best triple jump with a hop, skip, and jump of 17.43m/57'2 ¼". Finishing 2nd was Burma's Hughs Zango with the best mark of 17.25m/56' ¼" while USA's Donald Scott took 3rd (16.84/55'3").
mHJ: It was a rousing battle in the men's high jump as Japan's Woo Sanghyeok was the victor with a winning clearance of 2.35m/7'8½: – a lifetime best. Finishing in 2nd was Poland's Norbert Kobielski with a personal best of 2.33m/7'¾" while USA JuVaughn took 3rd (2.33m/7'7¾").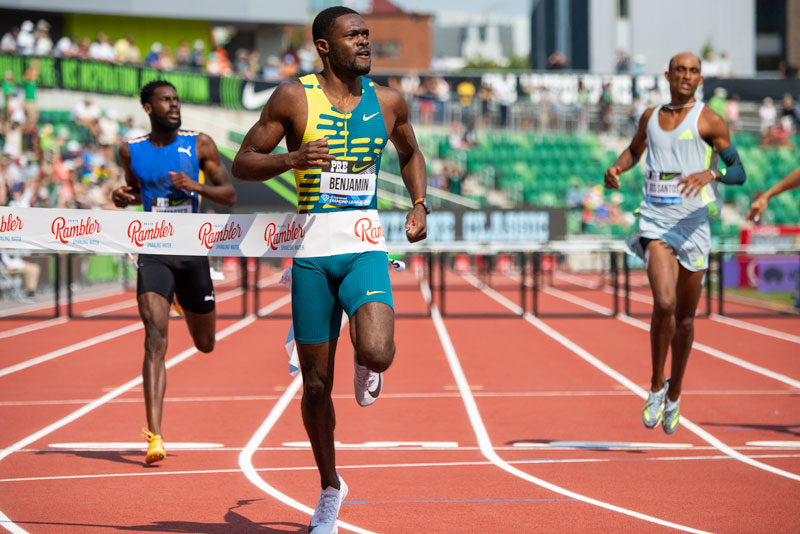 m:400H: It was an upset victory as USA's Rai Benjaman (46.39) found an extra gear over the final two hurdles to pass Norway's Karsten Warholm 46.53) and capture the…
CLICK HERE to Read the Full Original Article at runblogrun…