Is Sha'Carri Richardson the one true global star of Track and Field since Usain Bolt?
It nearly didn't happen. But as Sha'Carri Richardson anchored the US 4x100m team to victory inside the National Athletics Center in Budapest, beating Shericka Jackson in the process, it felt like she had finally come full circle. Potential meets execution. The confidence multiplied when she crossed the finish line in a new Championship Record of 41.03. 
It might not have broken the world record of 40.82, which the USA set in 2012, but it holds so much meaning. More even for Richardson, who until now has had to fight a way back to reckoning, on and off the track. At this point, there is a fair argument that her achievement has accentuated how much she has made Track popular. To the fans and non-fans. In her own little way, she's beginning to be the global star of the sport. 
Two gold and one Bronze is more than a fairly decent way to start the journey on the track. For Richardson, it feels much like getting the monkey off your back. Because God forbid, how does one change the narrative of a thing if you struggle to win in it? That's the starting point, and her medal haul in Budapest has put her on the right trajectory to command a huge following of fans outside the sport. 
After all the trouble in the last two years, Richardson has become reborn. Throughout this year, her performance has been nothing short of exceptional, leaving an indelible mark right from the beginning. The reverberations of her achievements started with a resounding fourth-fastest time ever recorded in the women's 100m during a spirited spring meet in Miramar. The track seemed to bow to her prowess as she surged forward, leaving spectators in awe.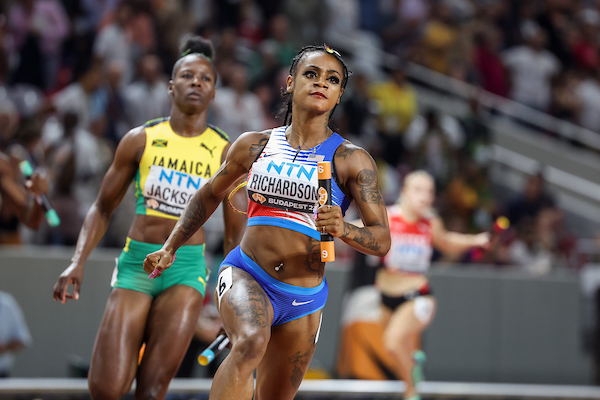 As if that wasn't enough, she etched her name deeper into the annals of athletic glory by seizing her first Diamond League victory in Doha. The victory was a celebration of her speed and a testament to her tireless dedication and hard work. With each stride, she propelled herself closer to the summit, reminding the world that she was a force to be reckoned with.
The crescendo of her achievements reached a triumphant peak at the US outdoor championships last month. The echoes of her victory…
CLICK HERE to Read the Full Original Article at runblogrun…