EARLYSVILLE, Va.
– Stanford freshman
Amy Bunnage
led the Cardinal women to second place at the Virginia Invitational on Saturday in her collegiate debut.
In Stanford's second meet of the cross-country season, the No. 9 Cardinal women beat 10 other teams ranked among the USTFCCCA top 30, scoring 104 points to No. 2 Northern Arizona's 48. Bunnage was sixth and the top underclassman.
Two-time NCAA track and field champion Ky Robinson took third in the men's race, with No. 4 Stanford scoring 275 to place ninth in a race that featured 14 ranked teams at Panorama Farms, the site of this year's NCAA Championships. 
Stanford's leaders — Bunnage and Robinson – are both from Australia. Bunnage, from Melbourne, is the Australian under-20 track record-holder at 3,000 meters and a six-time Australian champion, at the U20, U18, and U17 levels. Robinson, a senior from Brisbane, is the reigning NCAA outdoor champion at 5,000 and 10,000.
Ricardo Santos addresses his men's team before the race. Photo by David Hicks.  
Bunnage covered the 5-kilometer (3.11-mile) women's course in 16:26.4. Five Stanford women placed among the top 32 and seven placed among the top 50. 
Bunnage, who did not compete in the season-opening USF Invitational, matched Washington's Sophie O'Sullivan as co-leaders through 2,000 and was alone in front, just ahead of Duke's Amina Maatoug, through 3,100. Bunnage dropped to fifth at 4,100 and finished seven seconds behind the winner, Northern Arizona's Elise Stearns.
Lucy Jenks, Riley Stewart, and Grace Connolly finished within five seconds of each other, in 20th, 22th, and 24th. Freshman Sophia Kennedy came in as the team's No. 5, in 32nd place. 
Robinson, in his first race for Stanford since winning the NCAA 5,000 title June 9 in Austin, Texas, covered 8K (4.97 miles) in 23:29.4. It was essentially a three-man race among Robinson, eventual winner Drew Bosley of Northern Arizona and North Carolina's Parker Wolfe. The three held the front for the final 2,000 meters, with Robinson leading at 6K. 
The race marked the collegiate debut of Stanford freshmen twins Leo and Lex Young. Leo was Stanford's No. 2, placing 46th in 23:58.8. Lex placed 75th in 24:12.9 as Stanford's No. 4. 
Stanford's next major meet is the Wisconsin Nuttycombe Invitational on October 13.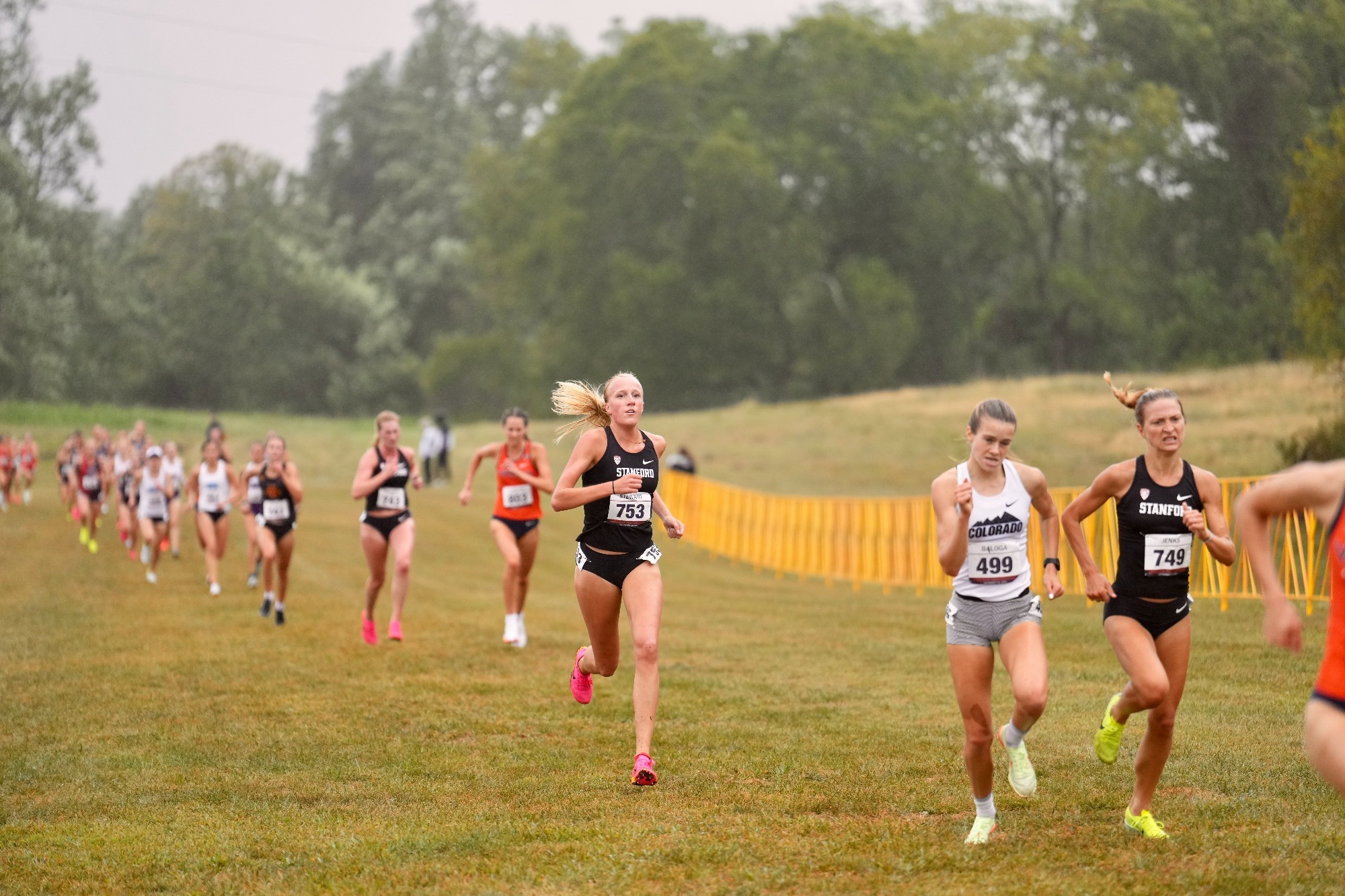 Riley Stewart. Photo by David Hicks.
* * *
Virginia Invitational

At Panorama Farms

Winners and all Stanford 
Men (8K, 4.97 miles)

Team leaders – 1, Northern Arizona 71; 2, BYU 101; 3,…
CLICK HERE to Read the Full Original Article at Stanford University Athletics…