By Poll Manager Ron Knapp
With a gradual start to competition this season that accelerated with major meets this past weekend state coaches cast their votes in the Marathon Sports Connecticut High School Coaches 2023 Poll #1 for the Top 10 Girls and Boys teams that featured the Glastonbury Girls and Xavier Boys as the top beneficiaries.
Marathon Sports CT High School Coaches 2023 XC Girls Poll #1
After the first few weeks of the season the Glastonbury girls team received 12 of the 16 first place votes to total 154 points overall by state coaches. The Guardians are undefeated in conference meets and scored a major win at the Winding Trails Invitational over Cheshire and New Canaan. The #2 New Canaan and #3 New Fairfield teams swapped places from the pre-season poll as the Rams gained 116 votes with 2 first place votes while the Rebels earned 114 votes.
The poll saw the greatest change in the 4th through 6th slots as the Cheshire Rams jumped to #4 with 108 votes a single first place vote while the Green Wave of New Milford skipped up to #5 with 89 votes and a single first place vote. The largest leap was by the Hall Titans as they moved to #6 in voting with 82 votes, up four from the pre-season poll.
The next four places were earned by the Wilton Warriors with 59 votes, the Greenwich Cardinals with 57 votes with the EO Smith Panthers at #9 (27 votes) and newcomer Mercy Tigers at #10 with 17 votes.
Marathon Sports CT High School Coaches 2023 XC Boys Poll #1
On the growing strength of their performance displayed this far Xavier edged the pre-season favorite Ridgefield by a single vote, 152-151 although the Tigers gained 9 first place votes to 7 for the Falcons. Hovering close behind in the #3 slot are the Hatters of Danbury with 146 votes that include a single first place vote.
The ranking for the next three teams by the 17 coaches voting remained unchanged from the pre-season poll as the New Milford Green Wave remained at #4 with 115 votes, the Hall Titans at #5 with 83 votes and the East Lyme Vikings at #6 with 82 votes.
The next four vote getters included #7 Wreckers of Staples totaling 67 votes followed by the #8 EO Smith Panthers close behind with 58 while the Wildcats of Norwich Free Academy and the Greenwich Cardinals tied for the final slot with 13 votes.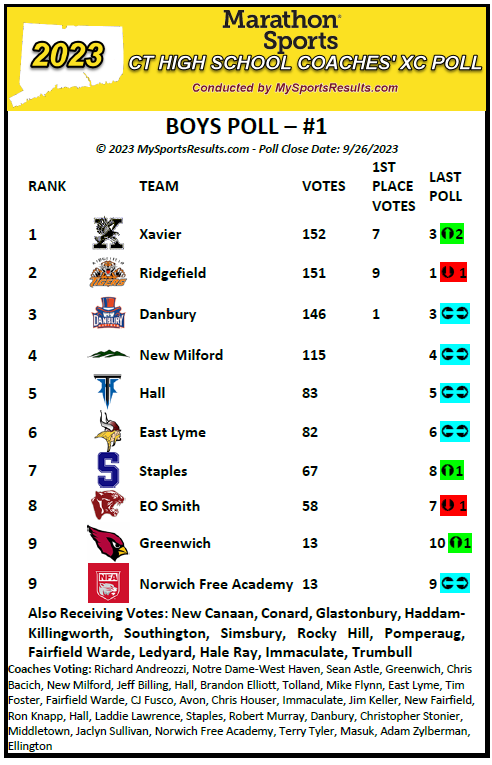 A note of thanks to the coaches who took the time from their busy schedules to vote!
The periodic polls offered this season will provide the coaches with several opportunities to refine their…
CLICK HERE to Read the Full Original Article at RunnerSpace News…