By Senior Correspondent Marty Ogden, Editing and Graphics by Ron Knapp
The New England Championships will be held at Troy Howard Middle School in Belfast, ME on Saturday, November 11th. Two of Connecticut's top teams traveled the four and a half hours from Connecticut to compete in the 22nd Maine XC Festival of Champions against over 70 schools from all over New England. 
Results available from 2023 FOC MEET DAY RESULTS LINK
E.O. Smith boys, the #8 team in the latest Marathon Sports Connecticut High School Coaches 2023 Poll, defeated all teams, scoring 95 to Portland's (ME) 184. Portland returned six of seven from last year's Maine Class A runner-up team while the Panthers were Class MM runner-up in CT. 
Junior Matthew Giardina of Bishop Guertin (NH) was 10th at New Englands last year, came away with the win in the Seeded Race, covering the 5000m course in 15:27.2. Maddox Jordan of Noble, ME kept it close finishing 2nd in 15:30.5, while E.O. Smith was led by Jack Mattingly who finished 3rd in 15:32.1. Juniors Brendan Cook and Spencer Slayton finished in 13th and 24th, with seniors Gabe Montoya and Will Connolly completing the scoring for the Panthers in 26th and 33rd out of nearly 900 runners in the overall standings. 
Glastonbury boys also competed and were led by sophomore Crawford Cauthen in 23rd place in a time of 16:29.76. The Guardians finished in 12th out of 75 total teams on Saturday. 
The Glastonbury girls are the defending New England champions and were slightly off, finishing in 4th place with 218 points. Brooke Strauss, the defending State Open champion who has already won the Wilton and Winding Trails Invitationals by large margins finished 19th overall in 19:28.36 after falling late in the race. She was in the top 10 before dropping back several places. The Guardian's pacesetting duties were taken over by senior Jacqueline Dudus who had the 16th fastest time of the day, running 19:25.19. 
According to Glastonbury coach Brian Collins, another runner had a side stitch and they were still missing All State runner Lila Garbett who should be returning to action next week for the Wickham Invitational.Sophomores Abigail Mathew and Olivia McKay finished in 46th (20:20.6) and 86th (21:11.0) places while Ava Gattinella, a scoring member of last year's team is getting backinto shape after being injured earlier in the season. She took 90th in 21:16.61 to round out their scoring.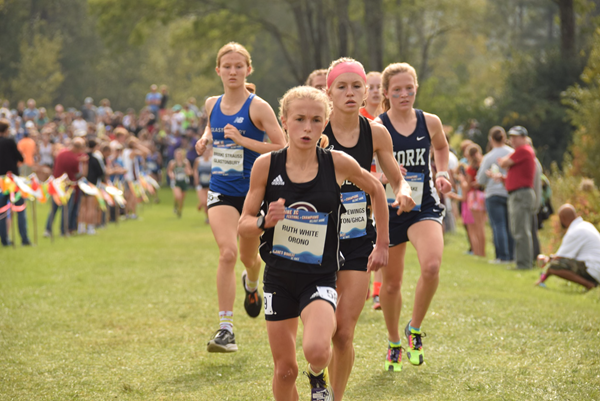 Also making the trip to Maine were the Trumbull girls…
CLICK HERE to Read the Full Original Article at RunnerSpace News…