Clubs: enter names for Lindsays National XC Relays at Cumbernauld
The Lindsays Cross Country Season opens up this weekend with our District XC Relays.
And what an incredible response we have had from our clubs for races at three venues this Saturday (October 7).
Entry numbers are running at the second highest we've known in recent times with a staggering 657 teams entered collectively for the East, North and West events.
More than 3500 names have been received and there's now no doubt the sport has made a stunning recovery from the Covid pandemic three years ago.
Livingston, Nairn and Glasgow are the venues and we say thanks in advance to the host clubs and organisers as well as the volunteers and Officials who will make the Lindsays District XC Relays happen.
'It looks like a very encouraging start to the lindsays Cross Country Season for the coming winter,' said our Competitions Manager, Caitlin Watt.
'Entries are up on last year in all three of the Districts.  And entry numbers are up on last year in both the Young Females and Young Males races in the East and the West.
'Senior Women entries are up in the East and North and Senior Men's numbers are up in every District when again compared to last year.
'We look forward to Cumbernauld a couple of weeks later and would remind clubs we need those entries in by Thursday of this week (5pm).'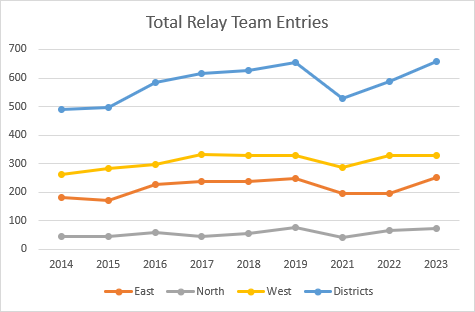 Details and key information for the three venues is available via the links below:
East District XC Relays: Deans Community School, Livingston
+++
North District XC Relays: Nairn Links, Nairn
+++
West District XC Relays: Alexandra Park, Glasgow
+++
Tags:
Lindsays Cross Country Season, Lindsays District XC Relays
CLICK HERE to Read the Full Original Article at Scottish Athletics…