The Maurie Plant Meeting happened in Melbourne, Australia on Thursday, February 23, 2023. The meet was a memorial for the iconic Maurie Plant, one of the key influencers in Oceanic athletics for five decades and also a global influencer. Maurie was a broadcaster, coach, manager, mentor, confidante and keen observer of the sport.
Those who did not know Maurie can listen to him, right here, as he discussed with me, back in 2015, key points from Beijing 2015 World Champs.
Justin Lagat wrote this piece about the Maurie Plant Meeting, which was a wonderful tribute to the great, influential and funny man.
 "Change in all things is sweet," said Aristotle. Having gotten used to the smaller enclosed tracks used in the indoor meets, the track in Lakeside Stadium looked more open, wider, and bigger than usual.
It was a grand opening to the World Athletics Continental Tour Gold meetings in Melbourne, Australia, as the Maurie Plant Meet saw some world-leading and outstanding performances, especially from the middle and long-distance stars that just capped their cross-country season with medals and titles in Bathurst last week and began their track season on high notes.
World 100m champion, Fred Kerley, was arguably the biggest star at the meeting. There was loud cheering from the expectant crowd as Kerley was introduced in lane seven of the men's Peter Norman 200m race.
A faulty starting block caused a restart of the race. After a second start, Kerley ran a spectacular and dominant second half of the race, celebrating by raising his right hand with 30m to go. He, seeming effortless, registered 20.32 for the win ahead of Rohan Browning in 20.71 and Aidan Murphy in 20.76.
As though to prove that their wins were not flukes, World Cross Country U20 champions from Bathurst repeated their outstanding performances to win in their respective men's and women's 3000m races.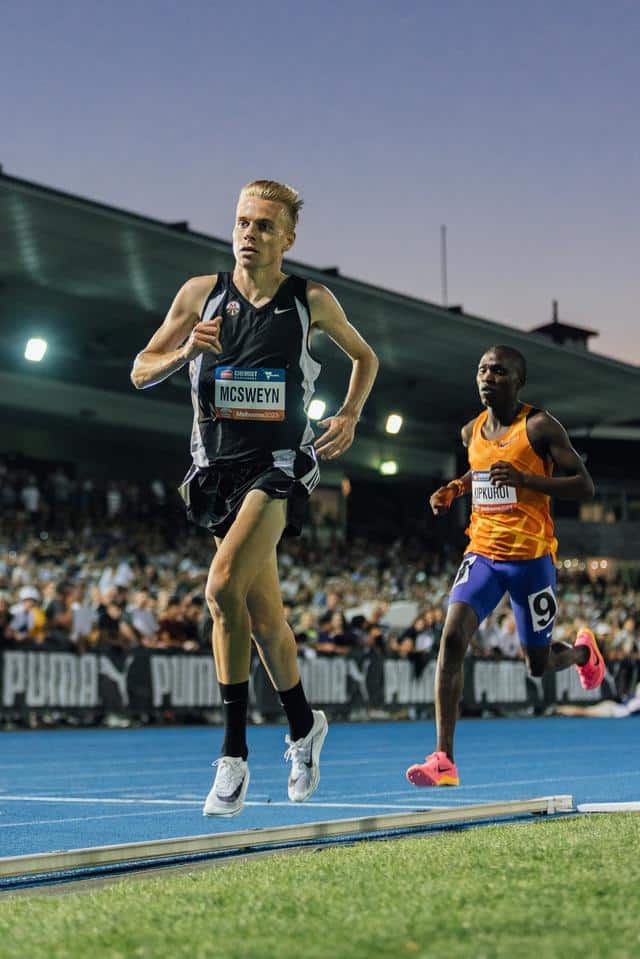 Stewart Mcsweyn leads Ishamael Kipkurui, Maurie Plant Meeting, photo by Maurie Plant Meeting 2023/Continental World Tour 
Ishmael Kipkurui waited until the last lap of the men's 3000m race before showing his true colours. Australia's Stewart Mcsweyn led two other runners at the front with four laps to go. The crowds were on their feet as Kipkurui stuck at the heels of their favorite home ground runner in the penultimate lap. KipKirui took the lead at the bell. Mcsweyn tried his…
CLICK HERE to Read the Full Original Article at runblogrun…