This is Witness the Wonder, the Preview to the 2023 World Champs in Budapest for Day 24, May 11, 2023.  
For the next 21 days, RunBlogRun will be posting a story a day on the buildup to the World Athletics Outdoor Championships, to be held in Budapest, Hungary, from August 19-August 27, 2023.
Let me tell you about Joshua Cheptegai.
In 2015, the young Ugandan totally impressed fans with his fifth place in the 10,000 meters in Beijing.
Joshua Cheptegai doubled in 2016 in Rio de Janeiro, taking eighth in the 5,000m and sixth in the 10,000m.
Uganda has a fantastic history in athletics, going back to the 1972 400m hurdle gold medalist John Aki Bua! Joshua Cheptegai and his countrymen are proud of their heritage, and with Stephen Kiprotich, London's 2012 Olympic gold medalist, they have even more recent heroes.
In 2017, Joshua Cheptegai fought brilliantly and took the World Championships bronze medal.
Joshua Cheptegai excels over 12.5 laps and 25 laps. In the Gold Coast Commonwealth Games, Joshua took gold in the 5,000m and the 10,000m! Uganda picks up two medals.
Joshua Cheptegai has developed into a championship racer. This is a certain skill set. In typical fashion, the 5,000 meters at a championship level is hell-bent from the first lap, and the 10,000 meters goes out tactically, and then, the pace quickens, in each case, a near sub-four minute last mile, and final 800 meters in the 1:52 range better be in your regimen to medal.
In 2019, Joshua Cheptegai started the year off with a World Cross Country title in Aarhus, Denmark. Not only did Joshua win, but he led the Uganda team to the title!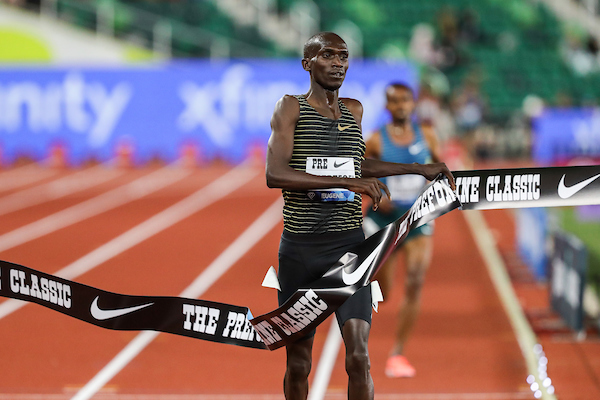 The Doha World Champs in October 2019 gave Joshua Cheptegai a chance to take gold at the 10,000 meters!
The pandemic shook up the entire sport. At that time, Joshua Cheptegai ran for the records. On August 14, 2020, Joshua Cheptegai ran 12;35.36, breaking the sixteen-year-old WR of Kenenisa Bekele for the 5,000 meters., his first race of 2020.
On October 7, 2020, Joshua Cheptegai took Kenenisa Bekele's WR at 10,000m, with 26:11.00.
Now a two-time World record holder, Joshua Cheptegai took that confidence into the 2021 delayed Tokyo Olympics. In Tokyo, Joshua Cheptegai just lost the 10,000m to Selemon Barega, with Ugandan teammate Jacob Kiplimo…
CLICK HERE to Read the Full Original Article at runblogrun…