Photo by Bobby Gavin
*NOTE: We will have a story on U17/U15/U13 races through our site on Sunday at some stage. Still working on photography and video content, too. Thanks for your patience.
By Peter Jardine, Head of Communications
Commentator Jim Goldie was in full flow as the leading men in the Senior Men's race at the Lindsays National XC entered the third and final lap at Callendar Park.
'This is going to be a truly Titanic last lap battle between Logan Rees and Jamie Crowe,' he boomed.
And so it was with Crowe and Rees trading blows over the final 3k or so until the Fife AC athlete – who has been in America for the past four years – did just enough to secure a winning margin and land a thrilling gold.
Logan clutched his head in his hands almost in disbelief as he crossed the finish line with Jamie, winner in 2020 and 2022, just behind as his Central AC team-mate, Hamish Hickey, took bronze.
With Crowe and Hickey taking silver and bronze, Central AC already had a strong basis for another Senior Men's team success – to make it 12-in-a-row in that particular yellow fever streak.
The Senior Women's race featured GB hill international Scout Adkin taking victory after landing silver the previous year.
Scout held on after establishing her lead with Edinburgh Uni's GB international, Alice Goodall, taking second with Steph Pennycook giving Fife AC presence on both the Senior race podiums.
There were U20 title wins for Hannah Ryding of Giffnock North AC and Matt Knowles of Edinburgh Uni Hare and Hounds.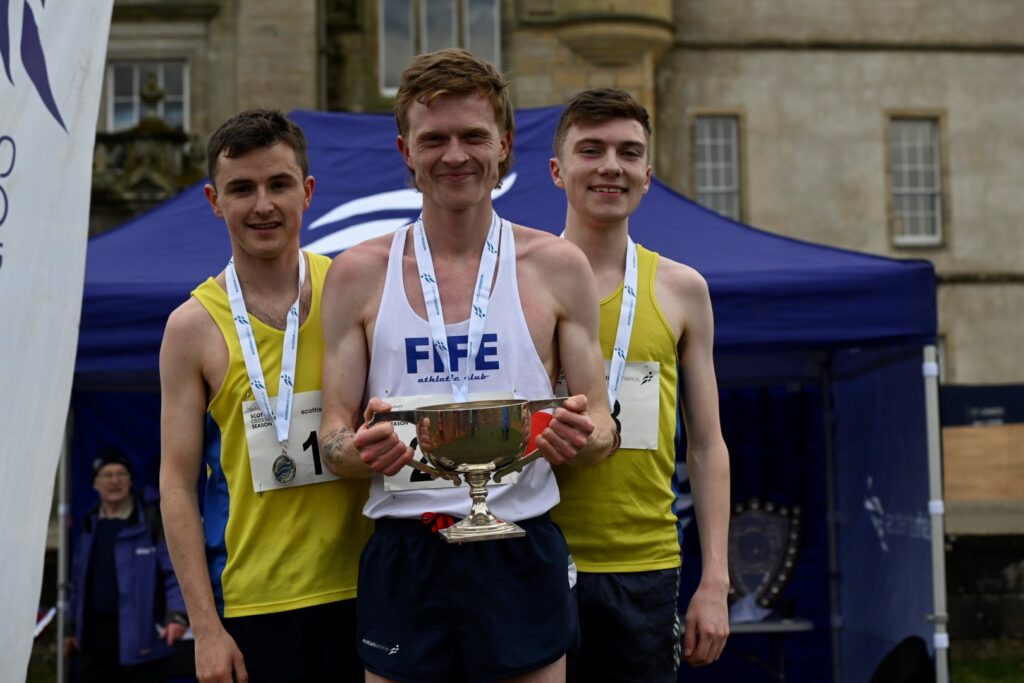 But first to Logan . . .
'I've always been obsessed with the National XC and Falkirk but I am not quite sure why because I've been away in the States and not raced here since 2018,' he said.
'I guess it goes back to coming here as a kid and competing regularly in the age group races.
'Jamie and I went into that last lap neck-and-neck and at times I wasn't sure if I could stay with him or if he would get back. I put in a kick up the hill through the tents and got a bit ahead but even then he closed right up on me again.
'Thankfully I've had enough to win and it is special day for myself, my family, Fife AC who I have represented for many years and for someone like Ron Morrison.'
Ron, the scottishathletics President, was thrilled to see a fulfilling moment for an athlete he has known night on 20 years and it was fitting he presented the…
CLICK HERE to Read the Full Original Article at Scottish Athletics…