Four Scots are Turkey-bound this week with the GB and NI team for the European Indoors in Istanbul.
Laura Muir, Neil Gourley and Guy Learmonth all harbour medal hopes in individual track events while Carys McAulay is with the Women's 4x400m Relay squad after her first Senior selection.
We've published the schedule of events for our four Scots at the foot of this article.
Muir has ambitions to claim a fifth gold medal at the European Indoors after four so far, with two more at outdoor European Championship events over the years.
Laura won 1500m and 3000m doubles in Belgrade in 2017 and in Glasgow two years later. She missed the 2021 European Indoors to focus on the Olympics.
'I've only ever won gold at the championships in terms of medals, so I want to add to the tally,' Laura told BBC Sport.
'It's always tough at European level, there's an awful lot of fast athletes out there. Hopefully my best will be good enough.'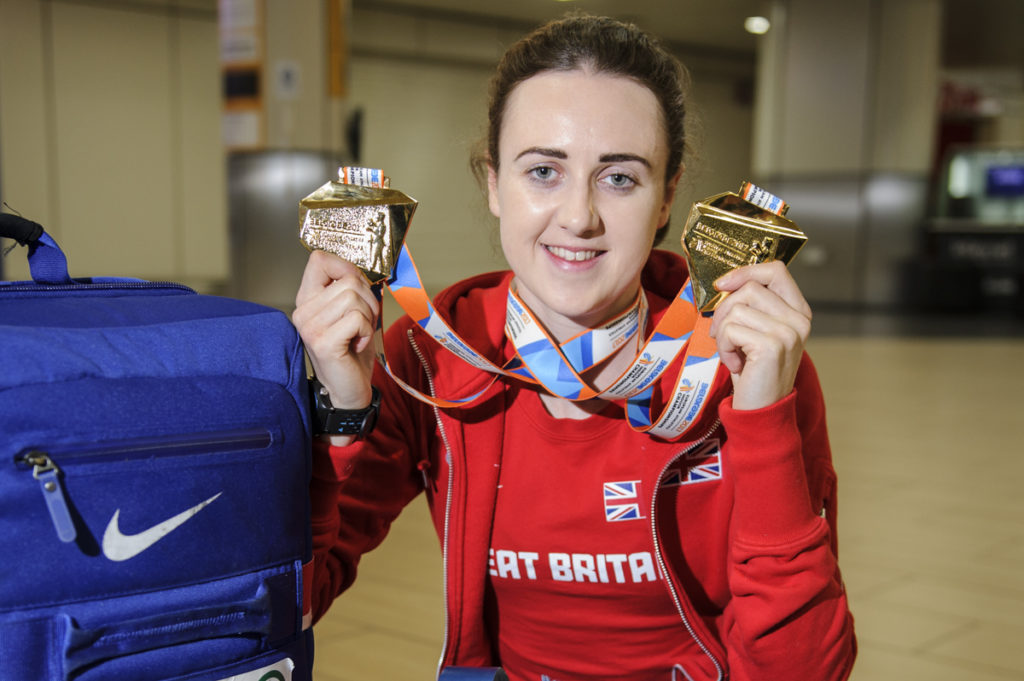 Laura with her Belgrade golds in 2017 (photo by Bobby Gavin)
The indoor season has started well for Muir, with two victories in the United States, including the prestigious Wanamaker Mile, and a win over 1000m at the World Tour Final in Birmingham.
'Last year was huge for me, picking up medals at all three championships,' she said.
'That was amazing. It just kept the ball rolling after the Olympics and I want to keep it going again this year.
'I'm really happy with where I'm at. I've raced a few times this indoor season and won them all. I've raced different distances; 3,000m, a mile and 1,000m, so I feel like I've tested my speed a bit, tested my endurance a bit.'
The following schedule is in UK time. For heats, the time is for the first heat. Names in brackets are dependent on progression from earlier rounds.
Thu 2 March
4pm – M800m heats – Guy Learmonth
6.05pm – M1500m first round – Neil Gourley
Fri 3 March
8.30am W1500m round 1 – Laura Muir
5.40pm M1500m final – (Neil Gourley)
Sat 4 March
4.35pm M800m semi-finals (Guy Learmonth)
5pm W1500m, final (Laura Muir)
Sun 5 March
4.25pm W4X400m – Carys McAulay
5.22pm M800m final (Guy Learmonth)
Tags:
Carys McAulay, European Indoors, Guy Learmonth, Laura Muir, Neil Gourl, Turkey
CLICK HERE to Read the Full Original Article at Scottish Athletics…