Photo by Neil Renton
Scottish athletes delivered a series of superb performances – individually and collectively – at the Inter-Counties XC races in Loughborough which completed the British Cross Challenge series.
There were regular visits to the podium with Scots at U17 and U15 in particular making a big impact.
Scotland West's Craig Shennan won the U17 Men's race and there was a medal double in the team races as our East lads took the silvers and the West landed the bronzes.
With two of the East team having suffered bad falls early in the race, those silver medals were a reward for real grit and determination.
In the U15 Boys race, there was a bronze medal for a second Giffnock North AC athlete, with Tristan Robbin representing Scotland West.
That helped Scotland West win the team golds there and the East team joined them on the podium to collect the bronze medals.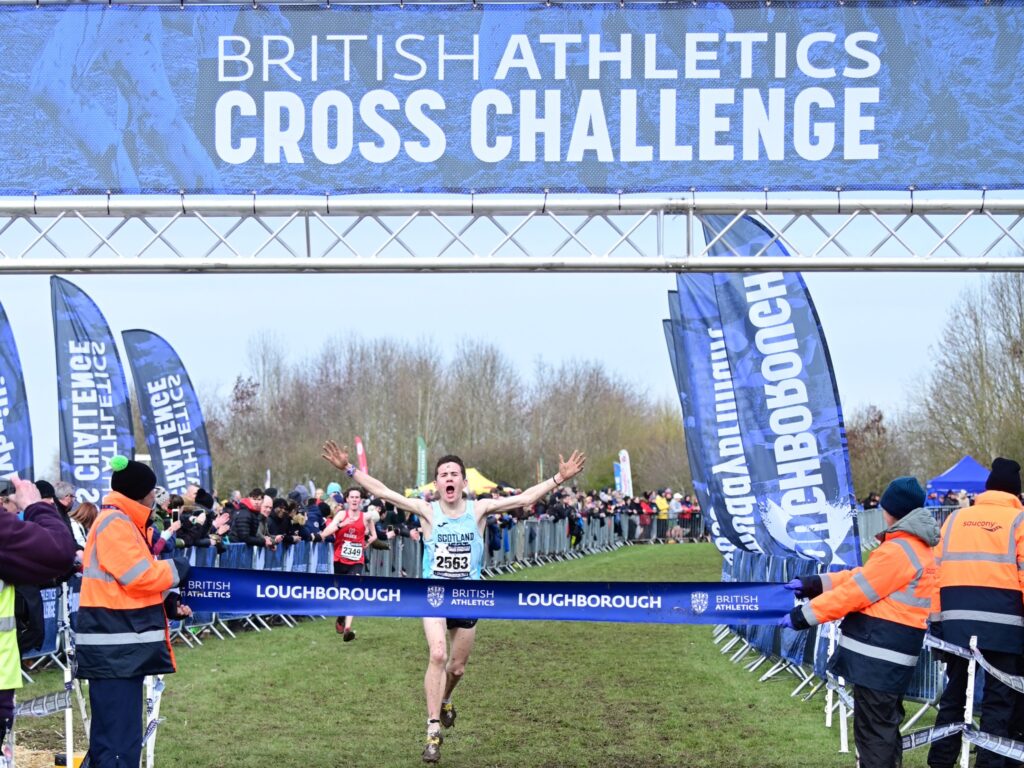 Craig Shennan of Scotland West takes gold in the U17 Men's race (photo by Neil Renton)
There was another Scottish win in the U15 Girls race as Zara Redmond took gold for Scotland West. The Kilbarchan AAC's athlete's performance led home the Scotland West team effort as they landed silver medals.
Recent GB and NI international debutant Hannah Ryding followed up her Falkirk win with silver in the U20 Women's race to complete a very fine cross country season for the Giffnock North AC athlete.
In the Senior races, Scottish champion Scout Adkin took fifth place (racing for Cumbria). And there was an excellent 10th place for Sara Green of Gala Harriers, the Masters athlete who finished fourth at the Lindsays National XC.
There were notable performances at U20 Men's level from Conan Harper (West) in eighth place and Logan Beagley (East) in ninth.
Team East Lothian's Cerys Wright was fourth in the U13 Girls race.
+++
Team medals:
U15 Boys
Scotland West 1st 39 points Tristan Robin (3), James Alexander (7) Calum Dick (12) Angus Wilkinson (14)
Scotland East 3rd 96 points Luke Culliton (10) James Wotherspoon (25) Ray Taylor (29) Howie Allison (32)
U15 Girls
Scotland West 2nd 111 points Zara Redmond (1) Freya Campbell (9) Scarlett Wilson (48) Katie Woods (53)
U17 Men
Scotland East 2nd 87 points Connor Bell (6), Hamish McKay (16) Reiss Marshall (19) Andrew McWilliam (38)
Scotland West 3rd 87 points Craig Shennan (1) Oliver McDonald (25) Alasdair Nugent (30) Jamie Connor (31)
With thanks to Alex Jackson, Sandra…
CLICK HERE to Read the Full Original Article at Scottish Athletics…