This is a busy Thursday. I am on my way now to LA for the USATF LA Grand Prix with some awesome fields! But this one had to be commented on! 
So, I am enjoying the afterglow of my podcast, Coffee with Larry, sucking down Major Dickinson's coffee (Peets), and watching the cardinals in my front yard, when an alert comes on the site owned by Elon Musk: Marcell Jacobs has a slight back injury and is out of Rabat
I am annoyed, as I was looking forward to Mr. Kerley, Mr. Jacobs, and Mr. Omanyala going at it over 100 meters. That is what our sport is about, right?  Seems like our sport is also about protecting your financial situation and world ranking. This is nothing new. Steve Ovett and Seb Coe would race in the very same meets, in different races (1,500m or mile) to build up some angst among fans. Athletes in the 1990s would withdraw from events citing injuries, perhaps when they just were not ready for the supreme effort.
This race, when it happens, will be riveting! @fkerley99, @crazylongjumper, @Ferdiomanyala https://t.co/QT3Iplz8CO

— RunBlogRun (@RunBlogRun) May 25, 2023
Now the track world has responded well. I point to our friend, Mike Rodgers, who is just loving it ( I can hear Mike's laugh about this one. Mr. Rodgers knows exactly what is going on…)
And it begins… https://t.co/KS24N5QUHS

— RunBlogRun (@RunBlogRun) May 25, 2023
Here's my beef. Fred Kerley is really fit, like scary fit. In front of my media seat in Doha, I watched the guy dust a field at his whim in the last 30 meters in 200 meters. In the presser, Fred Kerley gave me some time, and essentially he said one thing, " I love to compete." Fred wants Marcell Jacobs so bad he can taste it.
The photo below shows Fred Kerley running a 9.91 in Yokohama last weekend.
And if you think Ferdinand Omanyala has a different view of taking down the Olympic champion one more notch, you do not know athletics.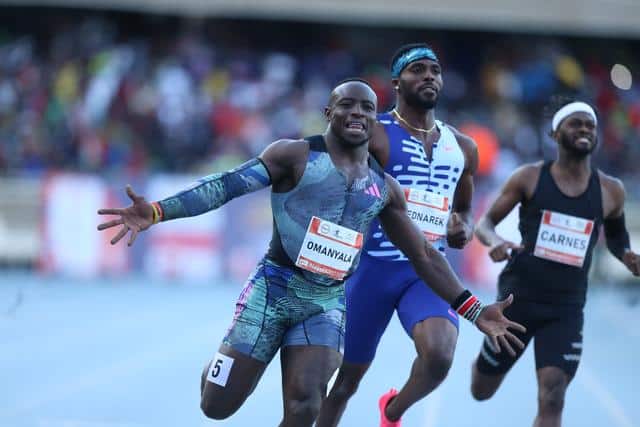 The truth is this, somewhere between a very painful back and not racing unless he is truly ready, Marcell Jacobs had an issue, and his coach, his trainer, and his team will not put him out there to be humiliated.
My guess is Marcell Jacobs will be in Florence, ready to roll. I sure hope so, because I do not want Crazy Long Jumper injured once again this…
CLICK HERE to Read the Full Original Article at runblogrun…