This is the third edition of the 2023 column, Deji's Doodles. Deji Ogeyingbo writes this column on Monday nights, and we post the column on Tuesdays. Deji writes about the athletic news of the week. 
What next for Mondo Duplantis, Fred Kerley looks like he didn't take a break and Grant Holloway is still unbeatable 
Lucky us! We were treated to another big week across the athletics world as Mondo Duplantis continue to do the unthinkable in the Pole Vault, Grant Holloway showed once again he can't be beaten, while Fred Kerley is reminding us about the whole essence of the sport.
Mondo Duplantis keeps flying, how much higher can he go? 
What do you do with a physical specimen like Mondo Duplantis? The world of sport has seen dominance in all aspects of track and field, but what Duplantis is doing in the men's Pole vault is just borderline ridiculous. At the All-Star Perche, a World Athletics Indoor Tour Silver meeting in Clermont-Ferrand, the Swede cleared 6.22m to add one centimeter to his own world pole vault record.
Two things stand out here: First is the margin of victory of Duplantis. He has made the men's Pole Vault a walk in the park and even his opponent seems to be in awe of his ever-increasing prowess. Australia's Commonwealth Games champion Kurtis Marschall finished second in Clermont-Ferrand, clearing an outright PB of 5.91m, and Menno Vloon of the Netherlands finished third, also with 5.91m.
They didn't come close to matching six meters, and it just shows how far apart they are in catching up. 
More important is the amount of world records he has broken in his career. It stands at a staggering six since he turned professional, and to be honest, you can put your money that he will increase that number in his career.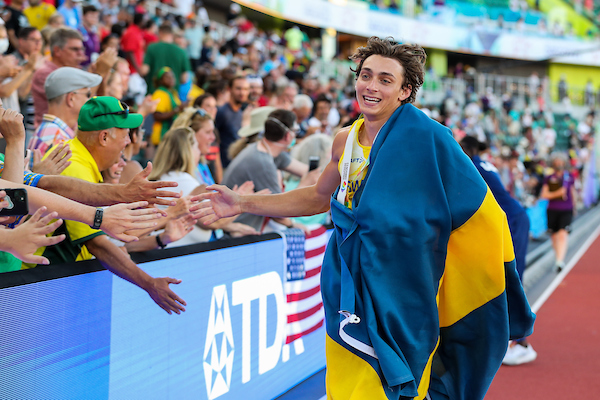 Duplantis has now achieved a total of 60 six-meter-plus clearances in his career so far. He set the first of his world records in Torun in February 2020, when he cleared 6.17m to improve on Lavillenie's previous world record of 6.16m which had stood since 2014. Even the almighty Sergey Bubka who transcended the Pole Vault in the eighties and nighties will be proud of this boy. 
Fred Kerley is enjoying himself after winning in Melbourne 
Very few people can claim to have the sort of…
CLICK HERE to Read the Full Original Article at runblogrun…