Photo by Jeff Holmes
Register now for Glasgow 2024 tickets
Eilidh Doyle has urged athletics fans in Scotland and beyond to pre-register for tickets for the World Indoors 2024 in Glasgow – with a year to go to next year's big event at the Emirates Arena.
The World Indoors is one of the sport's top events and will take place in Glasgow on 1-3 March 2024.
Glasgow successfully hosted the European Athletics Indoor Championships in 2019, and World Athletics will now bring its 2024 championships to the same arena.
Furthermore, the 2024 Championships takes on added significance as it falls within the qualification period for the Paris 2024 Olympic Games, and with athletes honing their preparations for this important year ahead.
Up to 5000 passionate fans can be accommodated in the arena for each of the six sessions, and ticket pre-registration is now open online via Glasgow 24 website to enable athletics supporters to get in line to book their seats for this must-see event next year.
Announced today as the Championships Ambassador, Eilidh Doyle competed in both the 400m hurdles and 400m, and featured as a regular member of the GB and NI 4x400m relay team amassing an overall tally of 17 major international podium places.
Eilidh won silver three times at the Commonwealths and won numerous World and European indoor medals including silver at the 2019 European Indoors in Glasgow – her last competitive race, as it transpired.
'I am thrilled to be announced as ambassador for the Championships, it is a real honour,' said Eilidh.
'I am excited that, as well as promoting the event, I will be contributing to the event steering group, ensuring that the operational plans put in place meet the needs of the athletes, creating the right environment to enable them to compete at their very best.
'Glasgow and Scotland have always been committed to innovation and delivering sport focused, athlete-centred events, which is why athletes love to come here, so I am sure Glasgow will step up yet again, taking the 2024 World Indoors to the next level.
'I know from competing at the Emirates regularly that the atmosphere will be incredible, so I urge all athletics fans to preregister for tickets while they can!"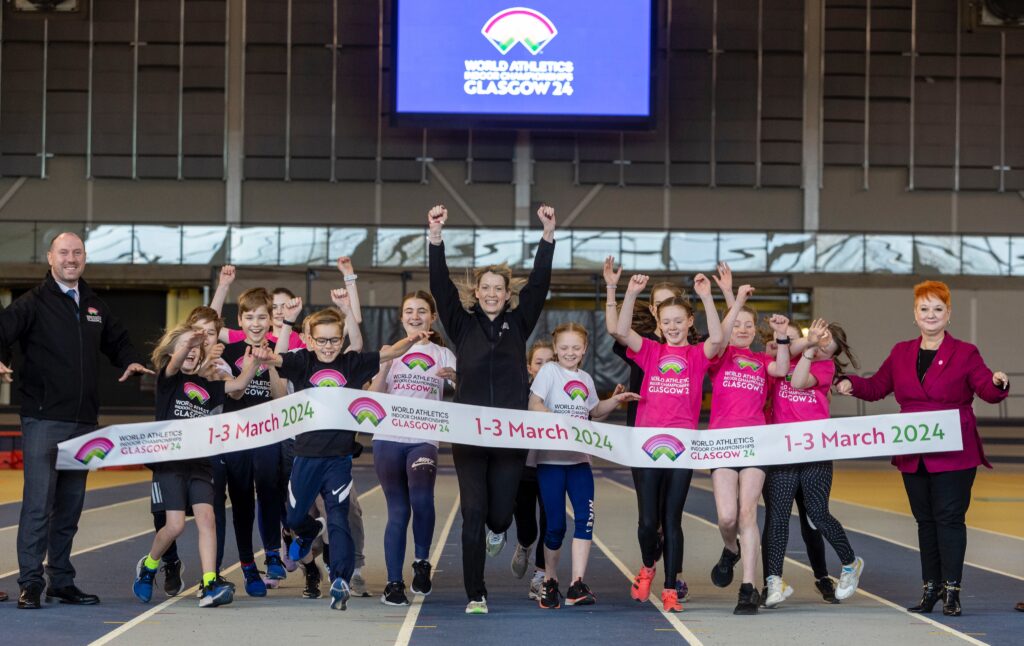 Culture Minister Neil Gray joins Eilidh Doyle with youngsters from Shettleston Harriers at the Emirates Arena (photo by Jeff Holmes)
World…
CLICK HERE to Read the Full Original Article at Scottish Athletics…